Total Love is available NOW!!! A secret baby…the mafia…and a passionate one night stand all wrapped in a novella.
Y'all this is the final book in the Blazin' Love Series. Man…the year went fast. I'll stop chatting… One-Click Your Copy!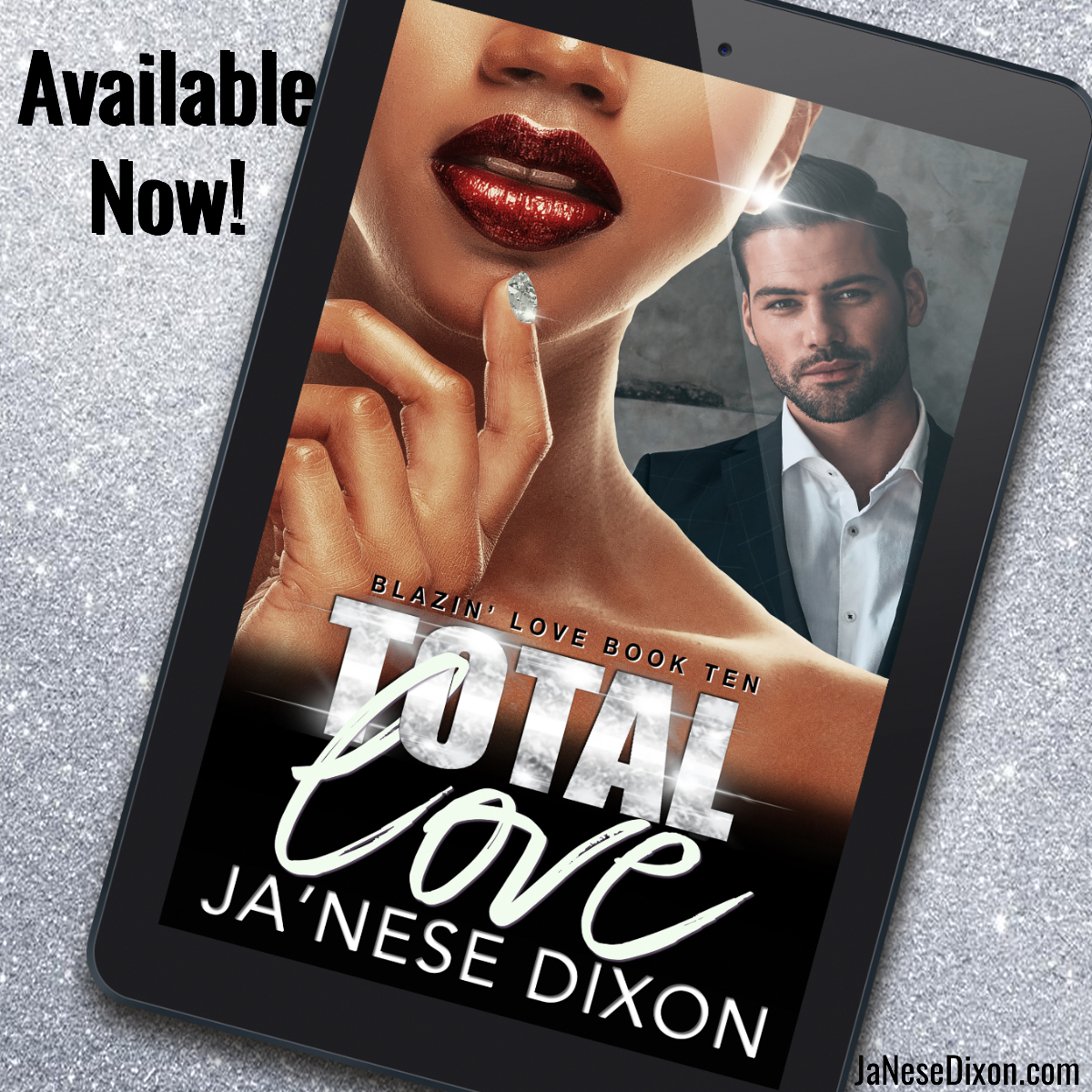 ABOUT
It's New Year's Eve.
Business is insane, and my life is unrecognizable, thanks to the bundle of joy I carried home from my last trip to Las Vegas. But exceeding a billion dollars is worth celebrating until I see my son's father.
I'm Chase Elliott. The GIB boarded a private flight to the City of Second Chances to celebrate our 10th Anniversary. A weekend is all I need to pop in and out of his city until Jameson enters the club. 
The man who devoured my body and changed my life. The man who haunts my dreams, craving him, is etched in the fibers of my soul.
And I fold to my last mistake of the old year, and in the heat of passion, I reveal our son has his eyes. I slip into the New Year running home under a cloud of Jameson's threat—my hand or his son. 
I'm prepared to fight the man who confiscated my heart. And as the truth comes to the light, I only hope lies don't tear down the house that love built.
Blazin' Love is a series of steamy romance novellas and part of the Steamy Sensations Holiday Love project. This BWWM romance features a secret baby, billionaire bad boy, and happily-ever-after. And the LAST novella in the series. Catch up with characters from other Ja'Nese Dixon books and end this series with a BANG!
Scroll up to one-click your copy of this BWWM Romance today!
EXCERPT
Tonight's my last night in my thirties I'm about to go hard and live it up. I spin around, and the crowd parts like the Red Sea, the sound of my heart drowns out the music.
The bass and the collective sway keep me rocking, but I'm in a trance. Where did Jameson come from? The temperature in the room simmers the closer he gets.
Everything about him appears unfazed by time. His towering height and piercing eyes turn me into stone. Is that longing I see staring at me?
He's in a suit. How do men like him find the perfect suit with the perfect tie? The perfect cut to complement their perfect bodies.
Harper is the first to notice. She spins around, hunting in the direction of my gaze. She's momentarily stunned, watching him stalk in our direction. His long strides are computing in slow motion. Damn, how many drinks did I have?
"Who's that?" The sing-song tone of her voice, even over the music is fitting. The man is an Italian god.
Please…please brain function, I plead, but my thoughts are slushy after the drinks. This man took up a permanent residence in my dreams. Stupefied by it all, I blamed the baby in my body for conjuring up images of him at all hours of the day and night. But the truth is, I fell in love with someone else's man.
Me…the woman who can't trust any man but my father. The guys' husbands are slowly wearing me down, but I'm going kicking and screaming because every man I've given my heart, my body, or my time has burned me. To a crisp.
Then all my lusty thoughts screech to a grinding halt. Jameson's engaged.
I carried his child alone. I gave birth to our son with my best friend and father, not him. This isn't two years ago. My life changed the moment I kissed him in a club just like this.
"He's Donte's father." My throat thickens with emotions I can't clearly identify. 
I'm pissed and hurt. 
I'm horny and lonely.
I'm trying to discount our chemistry as a surge of desire swells within me, and like a crazed idiot, I still love him.
How is it that I see the one person on earth that I want to avoid? I gulp air, and all I want is another drink to kill the ache. I wish I was a badass like Tina Turner. To stare the lover who's captured my heart in the face and yell, "Fuck love." I have to get out of here.