Welcome Kelly and her upcoming release Taking Down Brooklyn.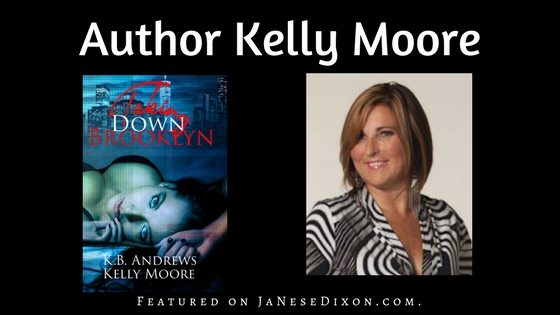 Hi, my name is Kelly Moore and I am Southern girl raised in Florida.  I am a registered nurse actually an ICU traveling nurse, wife, mother of two children and I have three grandchildren.  I have always been an avid reader and kept journals.  Until Broken Pieces, I never had the courage to attempt an erotic romance book and submit it for publishing.  I tend to embrace the brokenness in all of us.  It makes us who we are.  I love to see people come out strong and win against past pains.
I hope you enjoy reading it as much as I enjoyed writing the story.
My life was my own, that is, until I met B. She was meant to be one night of fun. One night of forgetting my miserable, lonely life.
I'm a hired killer, a modern day hero, of sorts.
I'm paid well to take out the bad guys. I take the money, I do the job, no questions asked- until her beautiful face becomes my target.
B suddenly has a name. Brooklyn Warren, The President's daughter.
The woman who I've thought about since the night we were together, now becomes my target. She has a bullseye's on her head and a large amount of money is being offered to take her out. But I don't kill innocent people and Brooklyn is not only innocent, but highly intelligent and trying to save
millions of lives.
She's come up with the cure for cancer and pissed off the mighty pharmaceutical companies. They stand to lose billions of dollars at the hands of a sexy redhead. Her father being the President of the United States doesn't dissuade them from hunting her and threatening him.
Instead of taking the contract to kill her, I rescue her and then she in turn, rescues me from my lonely life.
Keeping her safe is the only thing that matters to me. Her life will save millions, mine will save none. I will risk everything to keep her safe.
Now the hunt is on for both of us.