Y'all I love this series and I love these two!!! Okay. I'll stop shouting. It's time for another Blazin' Love romance.
Enjoy!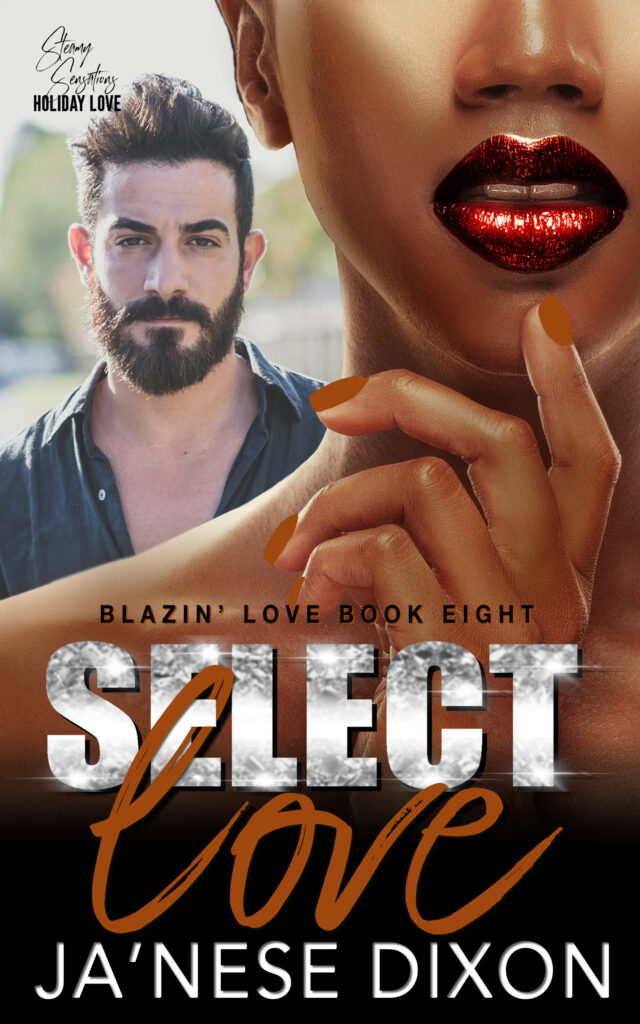 ABOUT
Trading the turkey for a bad boy…
It's Thanksgiving.
I'm straddled on the back of a Harley. This story will go down in history about how I trade in my luxury holiday trip for a road trip on a motorcycle.
I'm Payton Stephens, I own several luxury car dealerships, and I'm one-tenth of the badass women behind Platinum Prestige. My assignment—oversee the custom build of two motorcycles—and it seemed straightforward until I walked into Cade's lair.
All my contacts pointed to one man for the job, Cade Reynolds. This man screams dangerous, hot, and heartbreaker. But there's something about his rough edges and the taste of his kisses that has me hungry for more.
Then he challenges me to a game of strip poker. I forget the turkey with beef on my mind. And the good girl in me hopes it's possible to snag this bad boy because I'm all in leather, lacy, and all.
Blazin' Love is a series of steamy romance novellas and part of the Steamy Sensations Holiday Love project. This BWWM romance features a millionaire woman, alpha bad boy, a happily-ever-after, and catch up with characters from other Ja'Nese Dixon books. Get your index finger ready…
Scroll up to one-click your copy of this BWWM Romance today![/vc_column_text][/vc_column][/vc_row]
"You triggered the alarm." I clear the shadows of the building curious to see her up close. I point to the security cameras, but her sharp eyes remain glued to my face.
Her presence on the premises did trigger the security system. Still, it was my unsteady legs that caused all my tools to tumble in the garage. I caught a glimpse of her brown satin skin, feline eyes, enclosed by honey-colored hair.  
God, she's beautiful. I take another step, and she steps back.
"I didn't mean to startle you. But the addition of the showroom seems to attract the good and bad." I shrug it off. "The bad have learned to stay away from my property, but the chrome dressed beauties on the showroom floor are magnets."
"How did you know my name?"
She speaks… "I received a few messages from you. But I haven't gotten around to returning your phone calls."
"You ignored them?" Her brows bunch.
"Yes, it's the best way to get rid of unwanted requests."
"Unwanted requests. How do you know it's an unwanted request if you don't return the call?" 
"Because I have a two-year waiting list."
"Two years!" She shouts.
I nod with a smile. "I'm a man in demand. But you can reach someone in sales between nine and six, Monday through Saturday. I'm sure they can help you find something that suits your needs."
"But, I came to talk to you." Her voice fades.
"And you did. Let me walk you to your car." Keeping my hands to myself seems like the most challenging task of the night. Her eyes, her voice, all call to me, and the word is clear: mine.
However, women like her have no place in my world. A world of bikers and beer, rowdy men and women willing and ready to claim a Steel Ryder, especially the founder and president.
Payton is the exact opposite of what I need, even if I want her.
We walk in silence, and I slide my hands in my pockets. I look out over the parking lot to her sleek black sports car. A vehicle says a lot about a person. The sexy streamline coupe is much like the owner.
The Bentley Continental makes me swing my eyes back to the beauty beside me. This baby starts at six figures.
"Gift from daddy?" I ask, reaching for the door.
"No, a gift from myself." She pushes my hand away, opening the door for herself. The moment she touches me, I forget this is not something I want. I slam the door closed and stare into her eyes.
"How about a tour of the place?"
"I'd rather not. You've made it clear that we have competing goals. It's best that I take my business elsewhere." Her response is accurate, but her abrasive tone calls to the man in me.
"I'm sure we can work something out." I step back to avoid her swinging door.
"You. Wish." The door slams, and the purr of her engine follows.