The Forbidden Chords Series follows the drama of the rockstars heading Rockstar Entertainment. This indie record label makes more magic between the sheets than on the tracks.
The music is cutting edge. Their love lives are hot as sin. But if they aren't willing to choose between the two, they'll risk everything they've worked their whole lives to pursue fame and fortune on their own terms.
Family over fame is their motto…now sit back and watch them blaze a trail to the top.
Book 1: Rockstar Secrets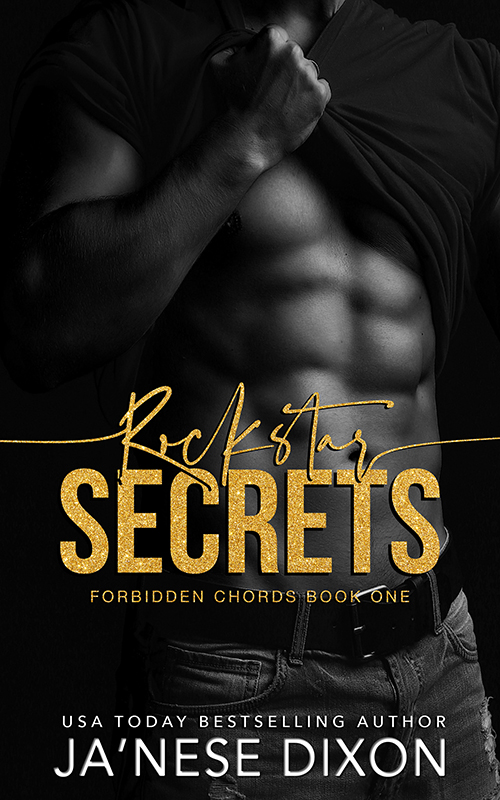 Millions of adoring fans dream of having one night with him, but only she has access to his heart.
Born with three commas in his bank account and melodies in his veins, Marques Carter is the rising prince of R&B. But not even his family name can guarantees success.
Brione Allen is a smart woman that made a dumb decision: trusting the wrong man. He blackmailed her family and now she's bound by a debt they knew she couldn't pay.
A meeting leads to an encrypted proposal: One week, one hundred thousand dollars, one incriminating secret. But when extortion and family ties expose them to the worst of the limelight, which secrets will they keep…and which will threaten their small light of hope?
Forbidden Chords is a series of standalone steamy romance novels following the drama of the rockstars in the studio and between the sheets. You'll see cameos from characters in the other Forbidden Chords books.
EXCERPT
Brione couldn't take her eyes off the stage. He shifted from left to right until he settled in a shoulder-width stance with one hand behind his back. Her eyes raked over his body from his black shoes to the loose black pants with a sequin detail up the sides of his legs. His muscles rippled under his snow-white shirt and Brione slowly gazed up to find Marques' eyes and he winked.
Hidden in the haze of the dark room, she decided to give herself this moment. Tonight she wanted to be the version of herself that desired Marques. No one had to know. 
Her heart beat louder than the drummer in her ears. Oh to have the skill to magically clear the room and have him all to herself. 
Marques stepped to the microphone, "Tonight is a very special night and I plan to make it one you'll never…ever…forget," he said to the room but his eyes remained locked on hers.