Today is release day! I'm excited about this steamy novella and the Steamy Sensations Holiday Love project. Now, let's get to Harper and Liam's love story.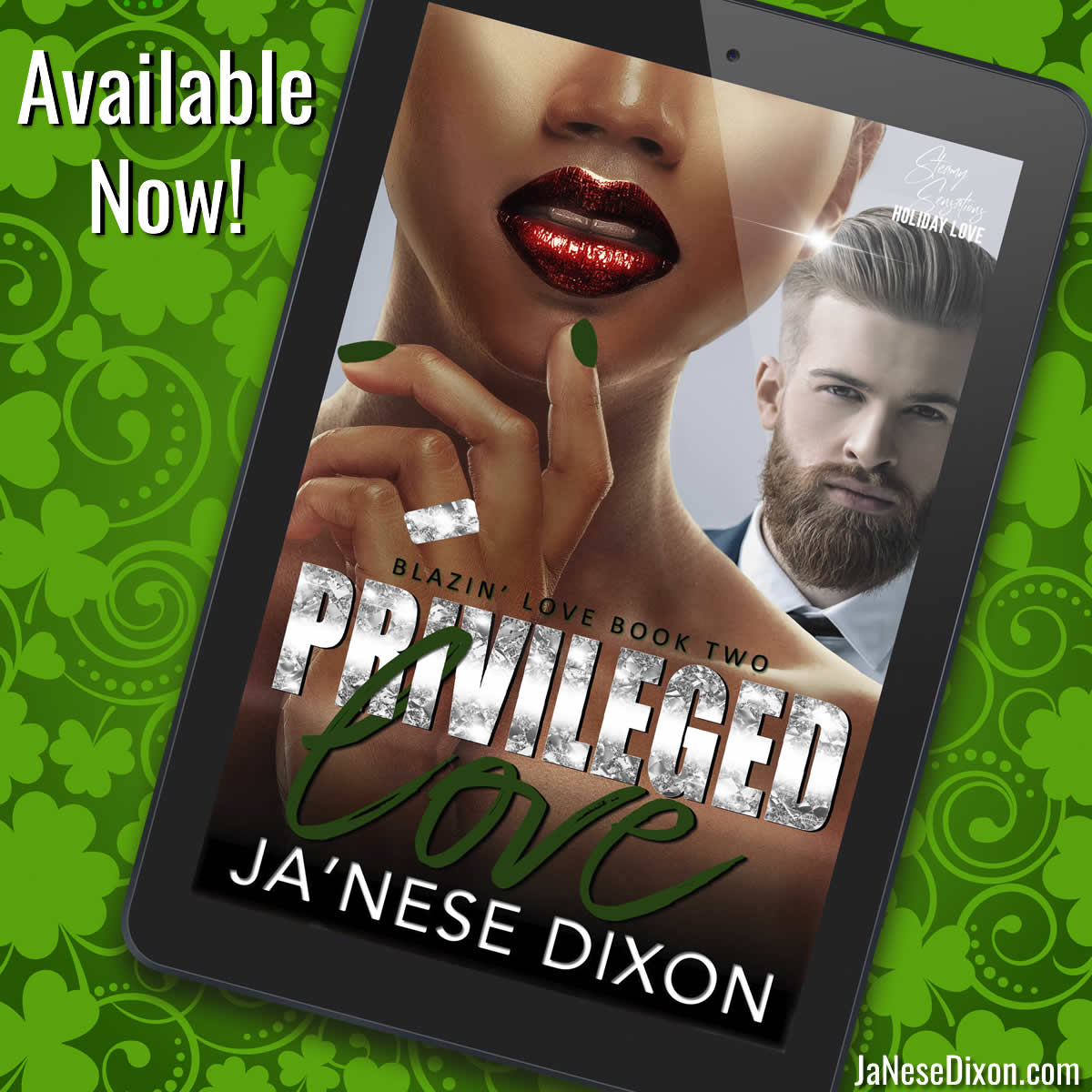 It's St. Patrick's Day.
The day is really not important, at least that's what I thought. I dress to impress, ready to secure my first contract as a partner with Platinum Prestige.
Simple, right? No, I wish.
I'm Harper Price. I've joined my best friends in starting an elite concierge service and I'm up. My sole task is to lease an airplane from Liam.
I walk in, he proposes, I walk out.
Apparently, his billions have gone to his head and now the sexy, arrogant menace won't leave me alone. His head is hard as a brick. (Take that any way you want.) And he refuses to accept "no" in any language. But I'm done with love. 
No more. 
Nada.
No mas.
Yet secretly, I'm scribbling my first name with his last name. Then he whispers, "Live a little Harper." And his money green eyes shine like dollars signs as he throws an unexpected curve ball. He'll grant three wishes, when…not if…I say yes.
Does having the most eligible rich bachelor begging to put a ring on it make me lucky? Hell no! 
Not when my heart is screaming leap, my head is screaming caution, and my panties are.… 
Oh hell, this is a f'in plane crash waiting to happen.
What is a woman to do?
Blazin' Love is a series of steamy romance novellas and part of the Steamy Sensations Holiday Love project. This BWWM romance features a millionaire woman, alpha man, a happily-ever-after, and catch up with characters from other Ja'Nese Dixon books. Get your index finger ready…
One click your copy of this BWWM Romance today!
EXCERPT
…a sensuous tingle runs up my spine. I glance up. 
Blink. Blink. Am I imagining?
I see Liam standing at the bar. My mouth drops open, and he's staring at me with longing in his eyes.
"Is that him?"
I try to nod discreetly, but I'm not sure if my head is moving.
"Hot damn. That man is ready to eat you alive." I swear she's hollering and I'd kill her if I could move.
"I agree with Charlee."
"You can't," I whine not taking my eyes off of him. His dress shirt is unbuttoned at the neck. He appears relaxed.
"I can't what honey." Hunter is talking through her teeth with a smile stretched across her face.
"You can't agree with Charlee. She'll have me butt naked screaming the man's name in the middle of S&J."
"As if, you're not thinking about it already." Charlee waves Liam over, and I'm planning her funeral in my head.
He approaches the table, his gaze locked with mine. "Harper." 
The words lodge in my throat. Why God? Why am I either cursing the man out or a mumbling idiot? This isn't fair. Then he smiles. "Ladies."
I swear they stop breathing, and so do I. He is that fine.
"Join us," Hunter offers sliding over. I turn throwing pin-sharp daggers at her with my eyes. She shrugs.
"I have a few minutes while I wait on my food." Liam sits next to me. He fills the space, his leg rests against mine. His eyes turn blue-green unsettling me.
Uh-hum. Charlee clears her throat. But I can't pull my eyes away.
Liam drapes an arm across the back of the booth leaning closer. "Aren't you going to introduce me to your friends?" He pulls back with a mischievous smile on his face.
"You're enjoying this, aren't you?" Breathing and thinking is a chore right now.
"Enjoying your leg against mine, the smell of your perfume, the feel of your—" His hand is on my thigh, and I jump. A smile is tugging on the corners of his lips.
"Liam, these are my best guys." I glance at them. "Hunter and Charlee."
He leans over me shaking their hands, brushing his body against mine.
"I'm going to get you for this," I whisper for his ears to hear.
"Promise?"
ABOUT STEAMY SENSATIONS HOLIDAY LOVE
10 Authors. 10 Holidays. 10 Steamy Romances.
Ten romance authors bring you a sexy story to fire up your holiday. Each author has their own series in 2019 with one thing in common – Holidays! See the Steamy Sensations books HERE.