Happy Halloween!!! Here we go…another installment in the Blazin' Love series Pretend for Me. It's a side story to the main series but I think you'll love it. It features Tia (Xavier's twin) and Cash.
Get ready for another steamy one. Enjoy!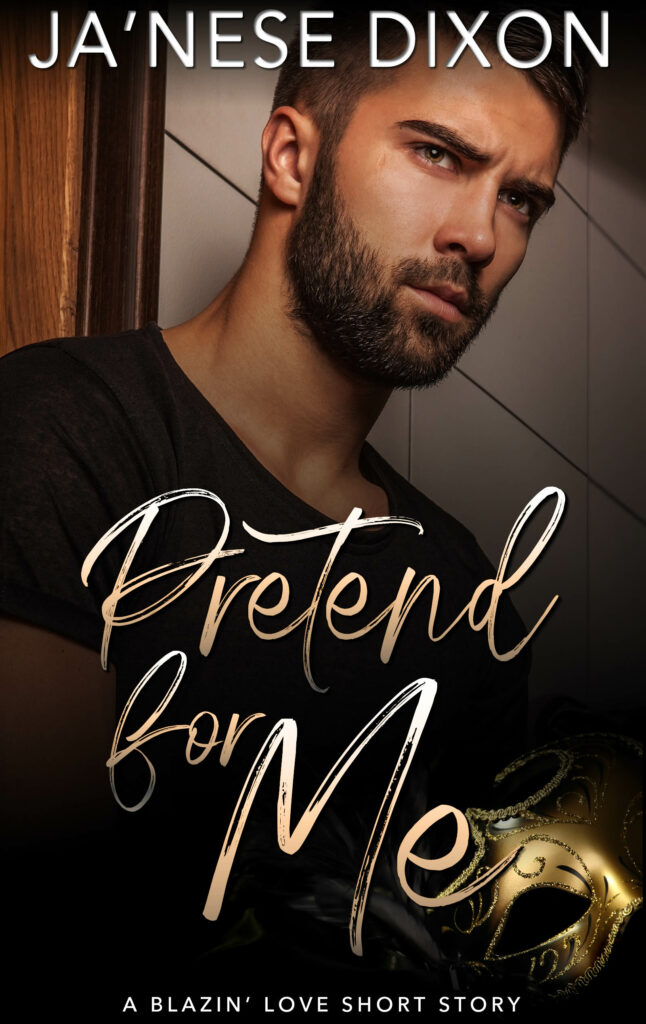 ABOUT
His sexy voice tatted a vivid image in my mind, and tonight I plan to see if what he's singing is true.
Tia 
I'm a single mother, and my son's father succeeded in killing the romantic in me. I was young and dumb, and now I'm older and wiser. But Cash, a tatted R&B crooner has me jonesing. And tonight I agree to another mistake… 
One night with him.
Cash
I'm hot now. Sold out shows, screaming fans, naked woman trying to sneak in my hotel rooms. Her brother will kill me for agreeing to her proposition. But hearing her velvet voice whisper my name, imagining her long legs wrapped around my waist, and dreaming of her curvy body against mine inspired every lyric on my album. I'm done waiting, all I need is…
One night with her… because I'm playing for keeps.
EXCERPT
I look across the parking lot, and Cash steps out of his midnight blue SUV.
"What is it, Tia?"
The alarm in her voice makes me force out a single word. "Cash."
"Can I offer a word of advice?"
He's wearing Js, blue jeans, and a Brand X tee. The man walks like the world is waiting for his arrival. Never fast. Never slow. But it's a sexy stroll that's just right, making everyone stop and take notice. Even me.
"Uh-huh."
"Love comes when you least expect it, but you need it most." I shake my head so hard my hoop earrings rattle. "The last thing I wanted was a twenty-three-year-old man to come in and turn my life upside down. But that's what I got, and you know what?"
"What?" I whisper as Cash stops outside my car, and I can't pull my gaze from his.
"I wouldn't want it any other way. I'm so thankful he didn't let me run."
"I love you too." The tenderness in X's voice makes me wish I was more like him. I figure there must be an ounce of his unwavering resolve in me since we're identical twins. 
Ryann fought their relationship because of the age difference, but like always, X wouldn't take no for an answer. Maybe it's time I take a few hints from my brother, to find what I want and don't stop until I get it. And right now, I want Cash.
"I'll talk with you guys later," I mumble because it sounds like they're about to make twins over there. "And take care of my baby!"
"We got him. Thanks, Big Sis." X is back on the phone.
"Love you," they sing, and then I'm left alone with a tempting man waiting for me.
I'm left with a decision. What am I going to do? This has disaster written all over it.
I don't have a lot of options. Two seem to cover it, either satisfy my curiosity or keep running.
I'm sure he has plenty of women vying for his time. That's not my business, I remind myself. I'm going to ask him out even if it's another mistake in the making. But will it eliminate my desire and erase this insatiable itch to have him?
I reach for the door handle and step out on rubber legs. I lock the doors and walk to him with my back straight, my shoulders back. Then I swallow my pride and ignore my fear of rejection.
"Cash, will you spend one night with me?"