Today is release day! Book 3 in the Smith Pact Duo.
Smith Surprise is a May/December romance between a widower and a single dad that begins with a family pact. This BWWM romance features alpha men, strong women, and a family defined by love not blood.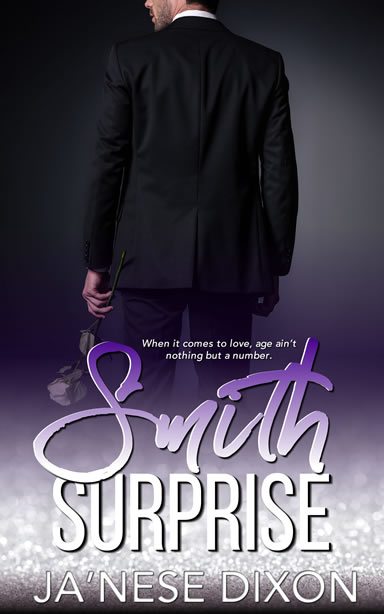 Did you enter the giveaway?
Grab your copy of Smith Surprise and enter to win.
ABOUT
When it comes to love, age ain't nothing but a number.
Rhonda Smith had to open her big mouth when she promised Asher and Yuki, her grown children, that she'd open her heart to love. And she intended to keep that promise until she learned dating ain't what it used to be.
Now there are apps for that. Not to mention speed dating, blind dates, and singles gatherings. To top it all off, there's Netflix and chills, and social media.
God help her.
She's a widower with nothing to lose, hoping for a second chance at her happily ever after, even if it means surviving absurd dates and kissing a few toads to find a suitable, mature man. 
But when Jaxon Reinheart unexpectantly adds his name to her dance card, Rhonda throws caution to the wind. The much younger, single dad, plans to show her that love and chivalry are alive and well.
If…she'll let him.
EXCERPT
I hear the wooden chair drag across the hardwood floor signaling number eight of five thousand.  "Hi, my name is Rhon—"
I glance up and see his beautiful green eyes. "Jaxon." The pen drops and the breathy sound of my voice is pretty close to pitiful. But his presence is how I imagine cool spring water on a hot summer day would feel, refreshing. 
"Hello, gorgeous." He slips past the next man in line, sitting in the seat across from me like he belongs here.
"Excuse me, my man." 
Jaxon glances up at him, jaw clenched, and the two communicated without words.
"Sir, come this way." Yuki ushers the skipped man to her table. Her eyes filled with curiosity and a mischievous twinkle.
A burning sensation tingles my cheeks. I can't be blushing. I look up fully aware of how close we are to one another.
"Is this all as gruesome as it seems?" Jaxon flicks a hand at the whole show of it all.
"Unfortunately, yes." I exhale. He leans into the table, I push my dating notes aside and do the same. The smell of his cologne makes me want to lean closer. 
"Three minutes." Yuki, the drill sergeant, calls out with her gaze focused on Jaxon.
"You better get to talking." His eyes sweep across my face, and I feel like a different version of myself. My seventeen before kids, youthful…hopeful self. 
"First this." I noticed a glass of wine in his hand.
"Thank you." I take a sip, and it's my favorite. "How did you—"
"Ben." 
I nod. And relax, feeling comfortable for the first time tonight.   
"Tell me about yourself," I say getting my first real look at him up close since our first brief meeting months ago. His green eyes are piercing, and sandy blonde hair gives him a youthful appeal. He's wearing a suit and tie. Much too dressed up for the ordinary Austin evening happy hour. I comb my mind, and for most of our encounters, he dressed the same.
"I'd rather hear about you." His finger lightly taps the table. 
"That's a first for tonight." I throw in as desire bubbles to the surface. There is something about the way his eyes dance under the overhead lights. 
"Lucky me."
Book 1:
Book 2: