Y'all…yes, this here Texas gal had a crazy week and after all the drama this book caused me I'm ready to share it with you. 🙂
Rockstar Sinners at its core is about love, second chances, and family. A driven music executive hypnotized by a soul singer with a questionable past. Can music heal them both?
Get ready…you'll see the Smith Family and the rest of the RSE men. Let's get it!!!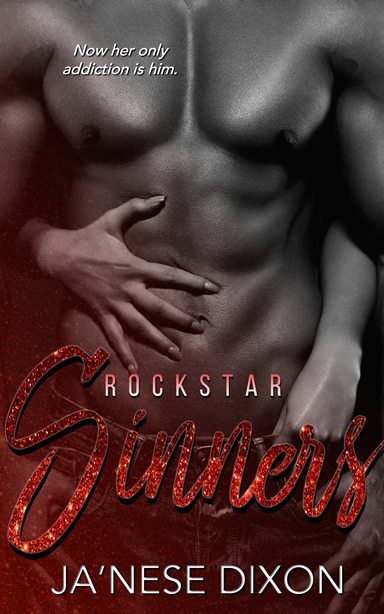 Can she convince him that her only addiction is him?
Sydney "Lady Bird" Jones took sex, drugs, and rock 'n roll to the extreme—literally—until she woke up determined to put the limelight in her rearview mirror.
Cameron Carter can spot raw talent a mile away with his eyes closed and ears plugged. And when he stumbles into a small Austin showcase, the songstress captures his attention and ultimately heart.
Sydney believes the sexy executive belongs in her bed as Cameron fights to maintain professional boundaries against the need to possess every inch of her. But when a demon comes to haunt her, he might as well sign his death certificate.
Will they learn to look beyond their personal shortcomings and transform their hot nights into a lasting love? Or will a lapse in judgment cut their happily ever after short? 
EXCERPT
Cameron let his nose lead the way as he loosened his tie. His suit and tie made him appear overdressed compared to the casual attire of the other patrons. He removed his jacket and draped it over his forearm as he reached the glass doors. 
But the scent of warm honey stopped him in his tracks. Cameron froze and glanced from side to side. The soft fragrance canceled out the aroma of barbecue and the spice of Thai. And his eyes locked with who he presumed was the culprit. His heartbeat dropped to a sultry crawl as her eyes boldly scanned him. He turned in her direction intending to give her a full display. 
Her light brown skin and full curly hair made her stand out in the dimly lit room. Her sinful curves were the ones songs were made of. A delicate hand draped on her hip with a body-hugging dress that fell to the floor in a puddle of black sequin.
The flames in her eyes were bright enough to cut through the room and ignite a trail of heated sensation across his skin. It took every drop of resolve to remain put. She looked like the red carpet type. The kind of woman ready to stand in the spotlight. The type of woman he'd take to fancy industry parties and travel around the world. And those weren't usually the marrying type. 
Okay, maybe he didn't want the marrying type just yet. But there was no way he could sample her and live to tell the tale. 
Cameron commanded his feet to move and let another man succumb to her alluring gaze. Because giving in to what his body wanted right now would be asking for trouble. And he'd learned the hard way that women like the honey-dipped beauty standing less than ten feet away tend to be trouble with all capital letters. 
Trouble that he couldn't afford.
Book 1: