Today is release day! Book 2 in the Smith Pact Duo.
Asher's Sonnet tells of a couple in love yet struggling to find happiness after their rushed "I do." It is steamy and real as they push each to the edge in more ways than one.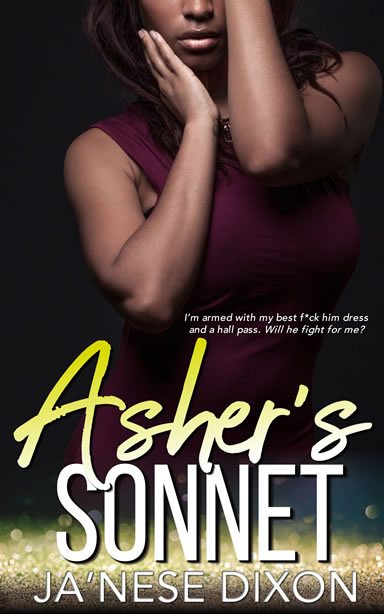 Armed with her sexiest f*ck-him
dress and a hall pass…
Asher Smith is a complicated man. He's hardworking, loving, but distant. And the only way Jasmine Smith can have him fully is to make him think he's lost her for good.
Fed up she asks for a hall pass and he said yes.
Barely holding back her tears, he witnesses the crime scene: her string bikinis, lingerie, and her sexiest f*ck-him dress are packed and aimed to kill. 
Jasmine books a flight for a week in Cancun with Yuki, her friend and his sister, willing to do whatever it takes to get his attention. 
This trip will be the death or rebirth of her marriage. It's up to Asher to decide.
EXCERPT
Can I have you?
"Not yet," he says reading my mind. "But hold that thought." 
I nod recognizing the promise shining back at me. 
"Come to me, baby." Before I know it I'm out of the car and in his arms. He scoops me up, and my legs dangle his grip strong and sure. I cradle the back of his neck and snuggle close, placing a kiss there. His stubble tickles my lips.
"I missed you." I thought it was me, but it's Asher. 
"Not more than I missed you." The ache is thick, and I feel it to my bones.
His lips find mine. The strong hardness of his lips part mine urgent and sweet as his tongue dips inside. And like a force of nature the walls of our world erect, shielding us from the world. There's no SOS job offer, endless questions about the state of my marriage. There is only Asher and I. And my weary soul melts. Taking what he offers with an open heart. 
"Get a room!" A voice shouts.
I pull back and search his heated gaze. "I think we should take this to the house." 
"Not yet." 
He hoists me higher, and I wrap my legs around his waist, his hands cradle my butt. He carries me as if I weigh nothing. And I know he won't let me fall. Ever. 
Is this normal? This crazy, can't breathe without you kind of love? It can't be. It must be insanity. Who could live like this?
SMITH PACT DUO
Book 1:
Book 3: