Escape with two enticing tales of love. Sometimes opposites do attract and just need a second chance love… courtesy of a raspberry puff pastry and an unexpected discovery. And then again, maybe all it takes is a little wine, truffles and a remodel to turn enemies into lovers!
Welcome back to Wescott Springs where it's always a sweet and sexy romp to love!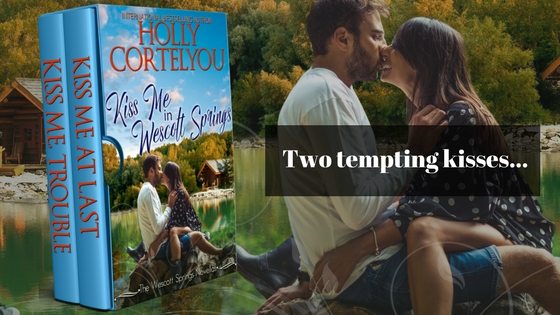 DESCRIPTION
KISS ME AT LAST
One tempting kiss will rock his world…
What's better than wine, chocolate and a little renovation magic? A sweet and sexy matchup between a handsome, hammer-swinging contractor, Sean McMallory, and a flirty and stubborn champagne bar owner, Melinda York, who's in a remodel pickle! Sometimes trusting your enemy is the sweetest victory of all.
KISS ME, TROUBLE
Why gamble on a second chance at love?
Six years ago, Cole McCaffrey shattered Alix Porter's heart into a million scattered shards. But one lucky encounter with flying artwork lands Alix right back into Cole's lap. With seven short vacation days, can Cole spark their sizzling chemistry and convince Alix of his love, despite the lie that tore them apart?
ABOUT THE AUTHOR
Holly Cortelyou pens sweet and spicy small town, contemporary romances that just may have a kiss of magic or a twist mystery.
On any given day, she's likely sipping coffee and procrastinating on Facebook or organizing a closet. Holly's living her own Happily Ever After with an uber-handy, broad-shouldered and delicious husband, a sweet silver lab and a fluffball kitty in sun-kissed Southern Oregon.
She has hazel eyes, a goofy sense of humor and all the rest is subject to change without notice.
CONNECT