Welcome to Southern Soul Houston! Today is release day for Book 3 in the Southern Gentlemen Series.
Honest and True is an enemies to lovers, slow burn romance. I hope you love getting to see another layer of the Montgomery family.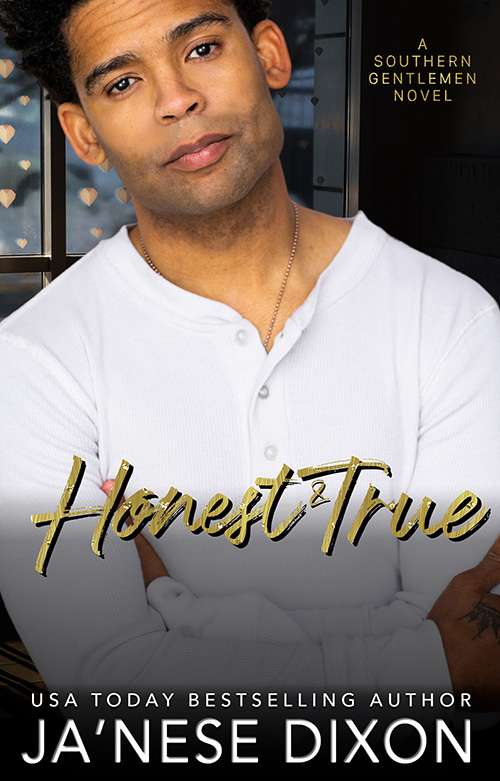 ABOUT
Rules are meant to be broken. But what about hearts? Is a second chance possible with this single dad and his sexy off-limits employee?
Rashaad Montgomery is a divorced single dad and one-fifth of Southern Soul Houston. He's juggling the care of his energetic daughter, managing his multi-billion dollar real estate company, and fighting his secret attraction to Catrina.
Catrina Franklin loves the Montgomery family and can't remember a day when she didn't love Rashaad. She gave up all dreams of turning her childhood crush into her man when he married and had a child.
But four years ago, he filed for divorce, then six months ago, he kissed her, igniting hope and unquenchable longing.
She knew their time had finally come, but her hope was dashed again when Rashaad showed up with a date, pretending Catrina was nothing more than a family friend.
Catrina left Houston, returning only to plan the year's biggest wedding, the Montgomery Double Wedding, a contract she needs to launch her new business.
Rashaad avoids the undeniable pull between them until he comes face-to-face with the very sexy Catrina on the arm of his biggest rival. The reality of his stupid mistake glares at him through her distrusting eyes. And he has two choices: walk away or prove he's the only man for Catrina Franklin.
A war is waged to prove they're friends, not enemies. Each encounter, caress, and secret kiss staged to prove his intentions and love are honest and true. But when history repeats itself, they'll learn whether love endures all things.
EXCERPT
"How are you?" Catrina asks.
"Tired." I drop my hands in my pockets to keep from touching her. "How'd your meeting go?"
"Good. Thank you for asking." She looks awkward and leading up to something that's going to piss me off.
"You came out here for small talk?" 
"Do you have to be an ass? Why are you being difficult?" 
"How would you prefer I behave, Cat?" This woman is like a shot of espresso. Dark, hot, and full of energy.
Her mouth drops open and snaps shut. "This is why we need to talk."
"And we're talking."
"I'm talking and you're…" Her hand does some weird fluttering motion. And I can't stop myself from moving closer. She steps back and I stare down in her eyes. God, she's beautiful.
"You look beautiful tonight Cat."
"No…" she shakes her head.
"Tell you you're beautiful?"
"Flirt. Lead me on. Do whatever you call this?"
"And what if I can't stop?"
"Then you have a problem because I'm not doing this with you."
"But actually, you are. We are."
Her eyebrows knot in frustration. "Rashaad, you're playing games and I'm too old and I'm too tired."
"You act like you're the only one trying here."
"I don't care."
I take another step drawn to the heat of her. "I missed you Cat."
"Rashaad don't do this. I'm trying to move on, and I can't if you keep flip-flopping like a fish."
"Because I can't give you what you want."
"How do you know? Did you ever ask me what I want? Which is fine because I'm not looking to be the flavor of the week."
"Flavor of the week? What the fuck is that supposed to mean?" She turns to leave, and I grab her arm. "I thought we were friends Cat."
"So did I, but you showed me definitely."
"You know that ain't true."
"Do I?" The look in her eyes could turn me into stone. "Rashaad, your ass was all over me one night and the next you show up with another woman on your arm."
My head jerks back. "I didn't mean to…"
"Kiss me. Lead me on. Please Rashaad tell me what you meant?"
In an uncontrollable haze my mouth covers hers tasting the sass on her tongue, the sweetness of her moan. I cup her face in my hands drinking her in. I probe between her pillow soft lips and she opens for me.
"Yo 'Shaad."
We jump apart, gasping for air. My heart slams against my chest and I want more. Catrina's eyes blink as if in a daze, chest rising and falling. The scent of her gloss on my lips, filling my nose. Her tongue darts out sweeping her bottom lip and I reach for her. 
"Dude," Q grumbles.
This woman is driving me insane. I pull my eyes from Catrina to my brother, and he tips his head to the side. I look and everyone's staring at us. 
Her eyes round, "I hate you. Stay away from me Rashaad."
"Cat…"