Ladies and Gents,
I've been awful about updating my blog. I'm super sorry.
I hope the thought of me writing nonstop in my mom-cave makes you feel excited. 🙂 Because I'm rockin' and rollin'.
Today, I'm excited to share my cover for "Hidden Desire." I'll have more about the story SOON. For now, get ready for June 19, 2017, because it will be featured in a summer romance box set.  
You can also PREORDER it now for 99¢ for a limited time.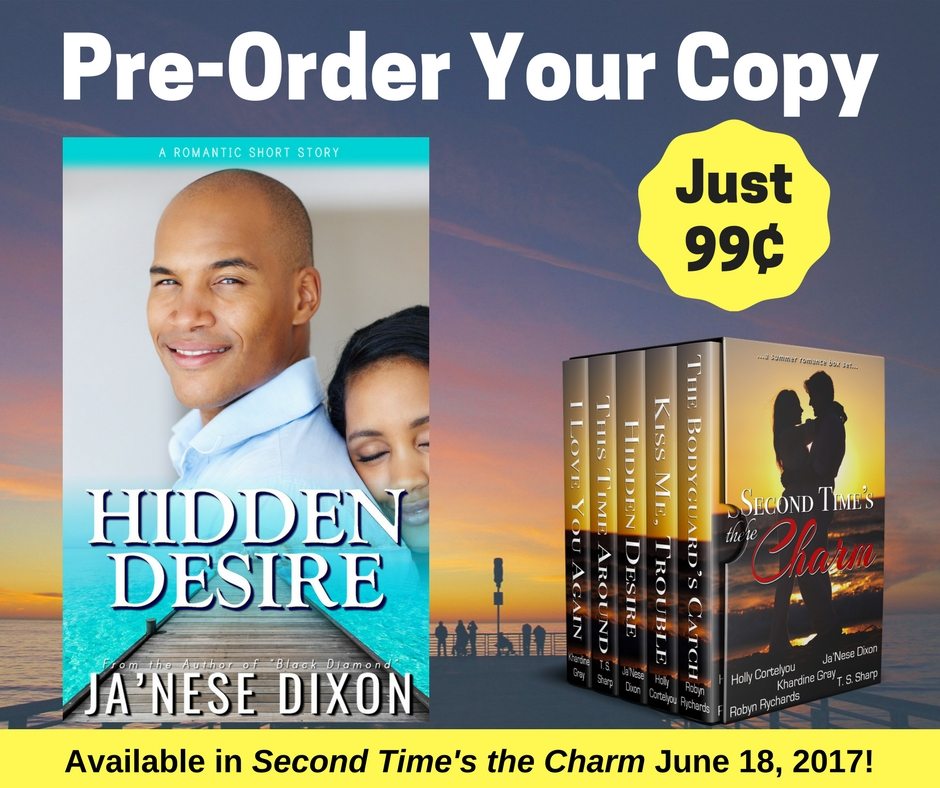 Preorder on:
About Hidden Desire
He's in love with his best friend, and she doesn't know it.
Bruce exudes confidence as a multi-diamond album producer, amassing wealth, and enough toys to keep all eyes on him. He is on the cusp of another major life transition, and he can't imagine pursuing it without Sandra by his side.
Sandra is rebuilding her life after a health scare. A life she hoped would include love, however, she's quite certain she's experienced more heartbreak than one heart should ever endure. But she can't stop daydreaming about a stolen kiss they once shared.
Bruce is secretly in love with Sandra and he's ready to get his woman.
Sandra reluctantly agrees to accompany Bruce for an exotic getaway. He will have seven days to convince her, he desires more than friendship, he wants forever.
Journey to paradise as Bruce and Sandra discover….whether love is worth risking their friendship.
About Second Time's the Charm
What happens when a summer getaway
offers a second chance at love?
Five unforgettable romances. Five delicious heroes. Summer lovin' doesn't get any better than this. Escape with these brand new, sweet and sensual second chances at love.
Dive into these lush beachy reads and feel the temptation of lost love rekindled…and lose yourself in captivating, heart-melting happy-ever-afters!
The Bodyguard's Catch: He broke her heart when he disappeared without a word. Is the love they still feel strong enough to overcome their past so they can have a future?
Kiss Me, Trouble: A quick holiday break is about to bring Alix Porter smack dab in front of her old, broken dreams. But an unexpected find and a tasty bakery will set her plans awry. Can Alix trust in fate and love again?
Hidden Desire: Bruce is in love with his best friend, and she doesn't know it. He plans an exotic seven-day getaway to show Sandra he desires more than friendship, he wants forever. But can he convince her that love is worth risking their friendship?
This Time Around: Why bet on the same guy twice? Years ago Dillion made the biggest mistake of his life. He left his high school sweetheart Victoria without an explanation. A chance encounter, miles away from their hometown, Dillion has a chance to right his wrongs. There is only one problem; Victoria doesn't want to rehash the past and most definitely not think about the future. Can Dillion convince Victoria he is worth a second chance?
I Love You Again: Who could resist the chance to fall in love again? Especially when it feels so right. Trina gets the shock of her life when she runs into Brad in Hawaii and discovers they're both a part of the same wedding party. She never thought she'd see him again and as far as coincidences go, this is a pretty big one. One neither her nor Brad can ignore. Emotions run high as truth unfolds and love rekindles. Love is in full magical force in I Love You Again.