I'm happy to introduce K. Victoria Chase as our featured author today. Check out her interview and don't forget your freebie. 😉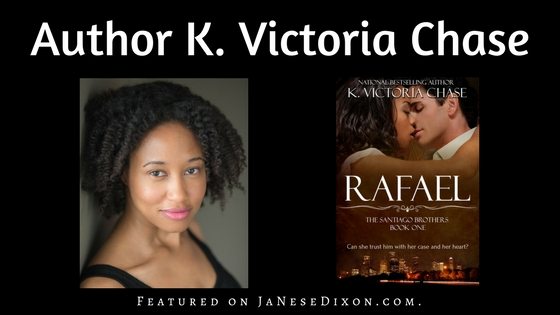 Tell us a little about yourself. 
Hi Everyone! I've always enjoyed reading and daydreaming about romance. When I was a young girl, I watched Romancing the Stone and the heroine–Joan Wilder–had the life: her own condo, lit fire in the fireplace, beautiful mood lighting, and writing her next bestselling romance on a typewriter no less. I knew then that I wanted to write. Now seventeen titles later with a new release planned for March, I'm happy to say I'm loving being a romance author. Right now, I'm living and working in England as an intelligence analyst.
Rafael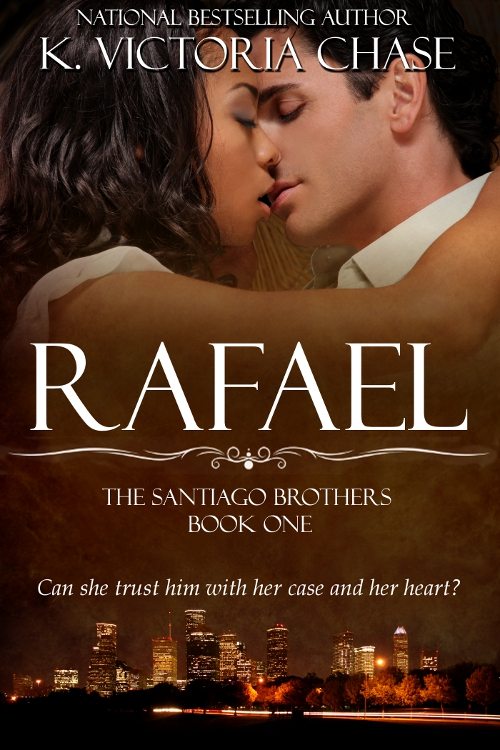 She needs his help. He wants her heart.
Bodies are piling up and Detective Genie Green is having a hard time solving the murders. An old high school crush comes back into town–Detective Rafael Santiago–and it'll take more than a couple of dimples to distract her when a promotion hangs in the balance. And there's something Rafael is hiding about his past that could break her case—and only he knows, but he can't afford to pay the cost of the truth…yet.
Tempers flare and attraction burns hot as these two independent detectives are thrown together to investigate the deadliest gang in the city.
If you enjoy engaging plots and down-to-earth characters, then you'll love the first installment of K. Victoria Chase's The Santiago Brothers. Read Rafael then fall in love with his brothers Alejandro and Ricardo.
Tell us about your main characters in your book. 
Genie is a homicide detective who is forced to accept another detective's–Rafael–help in solving murders happening across the city. She wants a promotion and feels FBI-bound Rafael is going to steal her glory. Rafael is ashamed of the connection to the murders and hopes it's never known. Their reluctant teaming makes for some fun quips, trust-building, romance, and—of course—danger.
Why would readers enjoy your book? 
My book is full of mystery, romance, with a good story that involves characters that are multi-dimensional. Plus, it's a "clean" romance and I've been told by readers that you won't miss the sex.
Why do you write? 
I love stories and living in my daydreams, haha.
Is the book part of a series?
Yes! The Santiago Brothers is a three-book series that continues into The Perrera Brothers. A total of four books are released.
Share one fun fact about your book. 
This applies to all of my books; I name a character after a family member. Sometimes that character displays a trait or traits of the real person and sometimes they don't, hehehe.
How can readers connect with you?
Lightning Round
What is your favorite movie? Aliens
What is your favorite dessert? Cheesecake
What is your favorite quote? Oh, I have no idea. Can quoting a whole Jane Austen movie count?
What is your favorite genre to read? Romance—obviously.
What is a hobby you enjoy besides writing? Other than watching movies? LOL, I do enjoy playing my violin, which I should probably do now since I haven't taken it out of the case in a while.
If you were stuck on an island with one book and one item what would they be? Probably the Bible and a knife.
What's a fun, quirky fact about YOU? I'm also an actress! Last year I decided to pursue acting and was featured in a few projects including an upcoming television series, Daily Bread, and as a murderess on an episode of For My Man–that was really fun.
Reader Gift
Would you like a copy of Rafael? Get it for a limited time HERE.