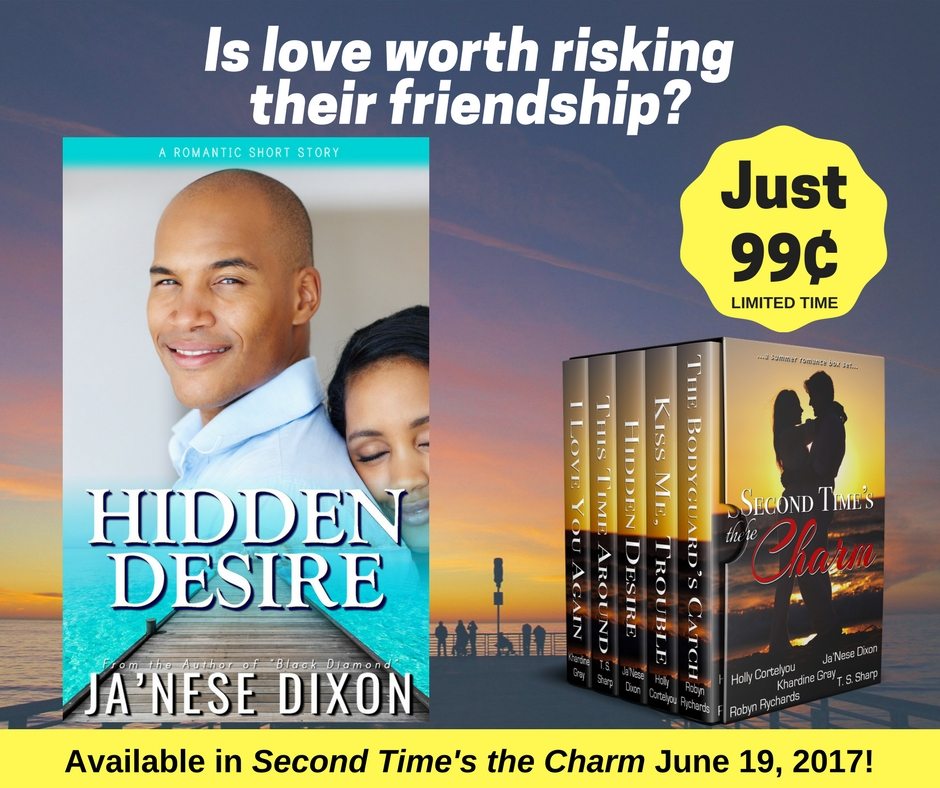 "Do you trust me Sandra?" Bruce Daniels made a wise decision of making his request by video because, for this discussion, he needed to see Sandra's face.
Her eyes filled with unease at the question, and with her ebony twists pulled back in a ponytail he had an unobstructed view of the guarded expression on her makeup-free face. Still, he would not take no for an answer.
Sandra lowered to the cardinal couch and moved a pillow to support her lower back."What do you mean? You know I trust you, but that's a loaded question. And stop with that silly smile. What are you up to?"
Bruce was about to orchestrate the biggest undertaking of his life. He hoped it ended with Sandra James as his fiancé.
"I need your help."
"Whatcha got kiddo?"
He hoped she didn't see him cringe. That was part of their issue. Sandra saw him as just a friend. Bruce wanted to be more than friends, and everyone knew it but her.
Patience, he chided his runaway heart.
He had a plan and when it was all said and done she would no longer see him as her best friend, her ride-or-die, or her pal. She would see him as a man, her future husband and, Lord willing, the father of their children. He wanted to give her a lifetime of happiness, and much more, however, their happily-ever-after would be impossible with him in the friend zone.
"I am chaperoning Marques to an industry event, and I need a date." There he said it.
"Your date?" Her eyes bucked in surprise and she started to nibble on her lower lip.
"Yes, Sandra, my date."
His eyes watched her. The best part of their seven-year friendship was he knew her. Sandra was a processor, and she couldn't be pushed into a decision. He'd give her the space needed to consider his request, because she had to be willing, but he would not allow her room to overthink it.
"I don't know if that's a good idea," a sudden look of apprehension passed across her clouded face.
"So you're not going to help me?" He steeled his facial expressions and leaned back as his plan take its course. Sandra would go to the end to help a friend. It was in her DNA.
"Why do I have to be your date to help you?"
"Because woman, that's what I want. So are you going to do it? Or are you turning me down?" He leveled his gaze. His heart raced, but he couldn't back down. Getting her away from Houston and her normal life was imperative.
"Why are you—"
"5…4…3—"
"Don't you dare start the countdown on me!" She pointed her finger at him letting out an exasperated growl. "And wipe that silly grin off your face."
"We don't have all day. I'll ask you again. Will you join me as my date?"
"No funny business." She demanded.
"I can't make any promises," he stated unbending.
"Bruce!"
"I'm not going to lie to you. But you're always safe with me. I'd never do anything to compromise you or our relationship." And he wouldn't, and that promise had made it harder to pursue her. What if he lost it all trying to gain what he wanted most, her heart.
---
SECOND TIME'S THE CHARM is our new summer romance boxed set. Five unforgettable romances. Five delicious heroes. Summer lovin' doesn't get any better than this. Escape with these brand new, sweet and sensual second chances at love.
This post contains affiliate links. When using you pay no more or no less for your purchase, however, your purchase does provide a small commission which is used to support my dreams of writing full time. Thank you in advance.