It's time for another Blazin' Love steamy romance. As a reminder, this steamy novella is part of the Steamy Sensations Holiday Love project. Taylor and Zach are two broken people trying to find something meaningful. I hope you love their story.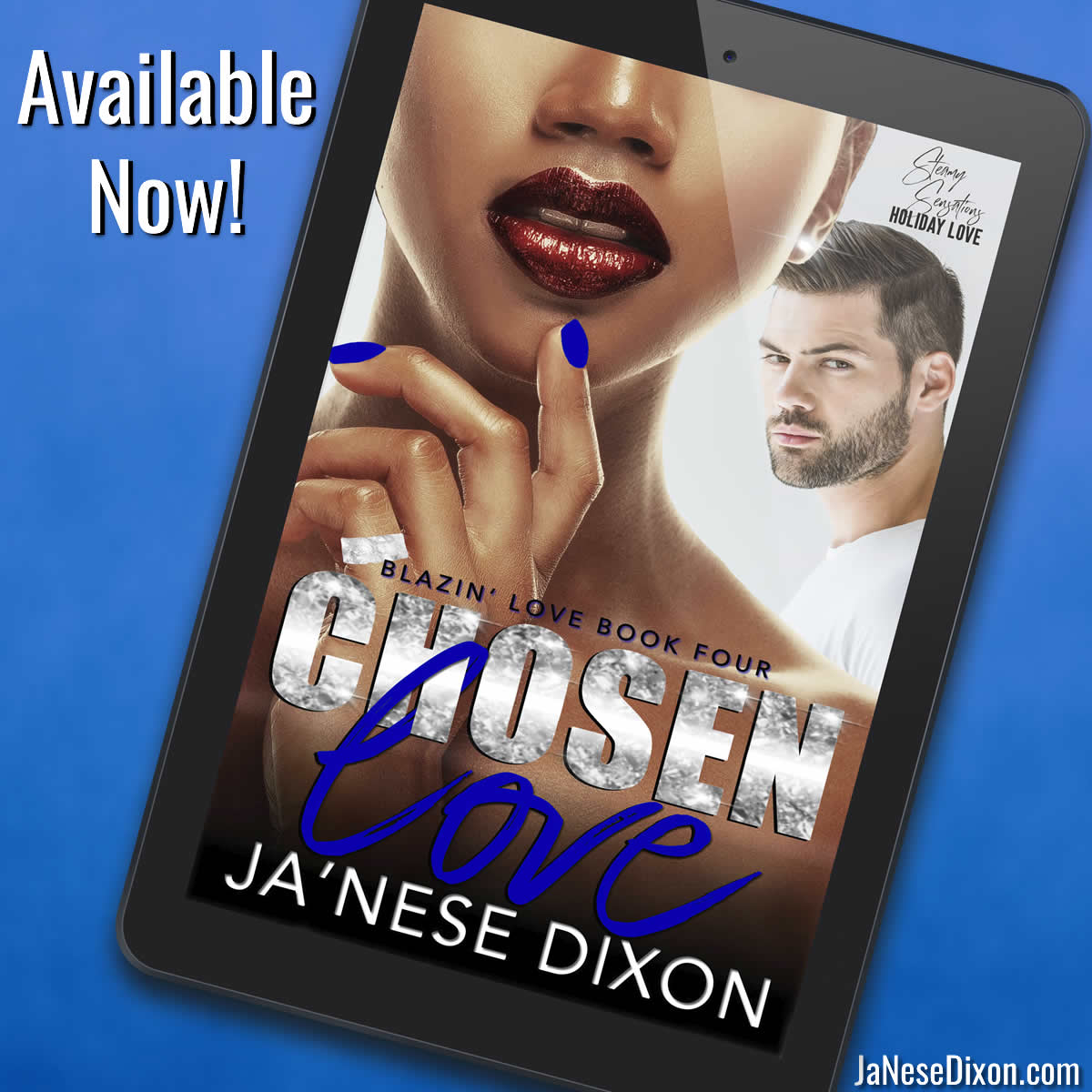 Did you enter the giveaway?
Grab your copy of Chosen Love and enter to win.
ABOUT
One night…new heights…new lows…new love.
It's Memorial Day.
I had a simple plan. Find a decent guy, get married, have some babies. He didn't have to wow me, just a nice, normal, safe man. But my safe selection came with strings, and suddenly my simple plan isn't what I want at all.
I'm Taylor Wallace. I'm questioning life right now. Whether it's time to cut my losses and swap Plan A for Plan B. Thankfully, I have a great distraction. I joined my best friends in starting a new business, Platinum Prestige, an elite concierge service.
Then I meet Zach. His eyes see through my doubts, and his ironclad will steamrolls through my fears. He's everything I don't need, yet everything I want. But he's not part of my plan.
Our undeniable passion turns my simple life from black and white to vibrant color. It has me wondering why I ever settled for safe at all.
Then suddenly, my walk on the wild side lands me squarely in his trap…for life. And once again I'm torn between safe and reckless…settling and chosen.
What's a woman to do?
Blazin' Love is a series of steamy romance novellas and part of the Steamy Sensations Holiday Love project. This BWWM romance features a millionaire woman, alpha man, a happily-ever-after, and catch up with characters from other Ja'Nese Dixon books. Get your index finger ready…
Scroll up to one click your copy of this BWWM Romance today!
EXCERPT
"You know what they say about getting over someone."
"Where is that one going?" He smiles. 
I totally blame my bestie Charlee. She has the weirdest sayings and tonight I'm using it because I don't want to think about Les or about going home to an empty house or about knowing he slept with her and got her pregnant again and… "Zachary, would you like to get out of here?"
One eyebrow lifts and I can't believe the words came out of my mouth.
"A responsible man would say no. You're hurt right now. You may see the situation differently after you sleep on it. Because it could all be a misunderstanding." 
"Are you a responsible man?" 
I lean forward trying my best to flirt. I move close enough to see the flecks of yellow in his eyes, and the scent of his cologne surrounds me. I've never really had to flirt. Les was my first and only. But now I'm a single woman fighting to forget. 
"I am a responsible man. But you're asking me after a few drinks. I think it's a crime to seduce an emotionally vulnerable man."
I throw my head back, laughing. "Emotionally vulnerable?"
He nods, leaning closer. "Yes. I told you about my father, and it's Memorial Day."
"Should I take my offer back?" I glance up, his gaze holds me captive, and I want to experience the desire I see directed at me.
"And shatter my excitement?" He holds a hand over his heart.
"Excitement?" I'm smiling again, and the sensation becomes a demanding pulse of need.
"A beautiful woman asking to spend time with an emotional wreck like myself." He shrugs. The joke is barely off his lips before I kiss him.
The taste of the too fruity drink passes between us. His thin lips sandwich mine, then he tilts his head, and I want more. I slip my tongue in his mouth, and Zachary pulls me to him. This kiss is deep, slow, and daring and our heads are moving back in forth to get the absolute best angle to taste perfection.
My heart hammers in my chest as he kisses down my jaw to my neck. This too is new. It is hot and heavy and happening in the bar. Then suddenly he pulls away. We're breathing heavy, our chests rise and fall. I want more.
"Taylor, I'd love to take you back to my place. But I don't want you to wake up and regret your decision."
"I'm not asking for forever. I want a night of amazing sex. To feel hot and fulfilled and to maybe drown out knowing my ex-fiancé had two kids with another woman while in a relationship with me."
Blazin' Love Series
Book 1:
Book 2:
Book 3: