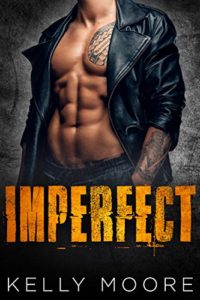 Dr. Ashe Manning- aka Lucifer- CEO and founder of the MTA Crisis Division, Neurosurgeon
I'm an imperfect man in love with the perfect woman. She's gorgeous, smart, and sexy.
I broke her heart. I took everything beautiful between us and smashed it to hell.
That was the old me. Now I'm in control. I've found different means to feed the adrenaline junkie in me. My mind is no longer free, but my heart is owned by one woman. The one woman I can never have because she saw my imperfections.
Dr. Aedon Thatcher- Partner, Thoracic Surgeon
I'm a woman in love with an imperfect man. I see his heart and mind, it's a beautiful thing.
I left him all alone. I took everything beautiful between us and threw it away.
The stronger me, still loves him. I'm polished on the outside, but uncontrolled on the inside. I disguise my feelings well. I don't want to love him, but I have no choice. He owns me, even if he doesn't know it.
Dr. Wren Adams – Partner, General Surgeon
The man standing between the two of them.
Certified HEA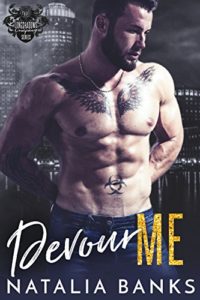 Tia
Longshadows is my life-
I'm the founder and CEO of the country's elite erotic entertainment company.
Those who step into my hedonistic world play by my rules.
Those who refuse to play?
Well, some secrets are worth keeping..
But Longshadows has hit a rocky patch, and if I don't think quick, I'll lose it all.
I need a man of extreme power, a man with connections who's just as ruthless as I am.
A man like Marcus.. My former love, my former everything, until I let him go.
Marcus
Longshadows was my idea.
And then she stole it.
My former lover, my sexual protégé.
I taught her everything that she knows, and she turned against me, seeking out power and wealth.
So I did the same across the atlantic.
I never expected her to give me the time of day again when I walked through her doors
all those years after with an offer she refused.
She countered me with a simple proposition..
Play the game and win it all.
So I will..
Kidnap her, catch her, beat her at her own game.
I never say no to a challenge..
She may have one-upped me once before, but this time around
there's only room for one winner…
and that's me.
Devour Me contains mature themes., intended for adult audiences. It's all about her pleasure. It's a full length story, full of adventure and steamy 18+ mature scenes that will make you melt. As always HEA & No cliff-hanger, and is part of the Longshadows Company Series (which can be read in any order).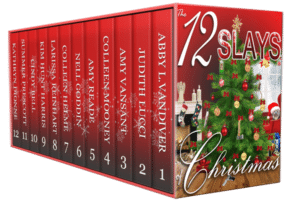 Have yourself a Merry Cozy Mystery Christmas!
We've got twelve new, never-before published, Christmas-themed cozy mysteries in a boxed set from twelve cozy authors! Holiday murder and mischief abound, but not to worry, we've got our share of amateur sleuths!
And to make everyone's Christmas merry and bright, as an extra bonus we've got holiday recipes! And, the authors of The 12 Slays of Christmas, in addition to sharing our Christmas whodunit stories with our readers, are donating the proceeds from our boxed set to an animal rescue shelter. C'mon! Buy a book, rescue a dog! (or cat!)
Can't you just feel Christmas in the air? So, put on your winter mittens, dust  off your holiday recipes, start humming those carols, and have yourself a Merry Christmas with a little murder, some good food, a whole lot of fun, and a gift of love to our cozy pet partners in crime solving!