Today we're joined by Beverley Scherberger and her upcoming release Savage Isle expected before Christmas in both paperback and ebook formats. Now let's get to her interview.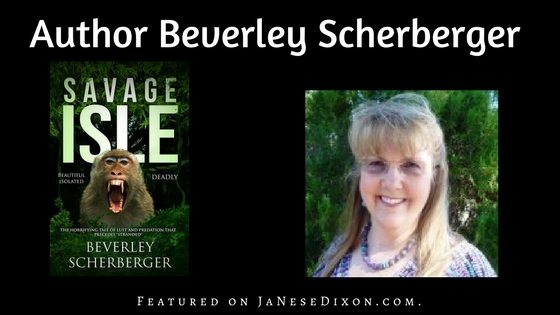 COMING SOON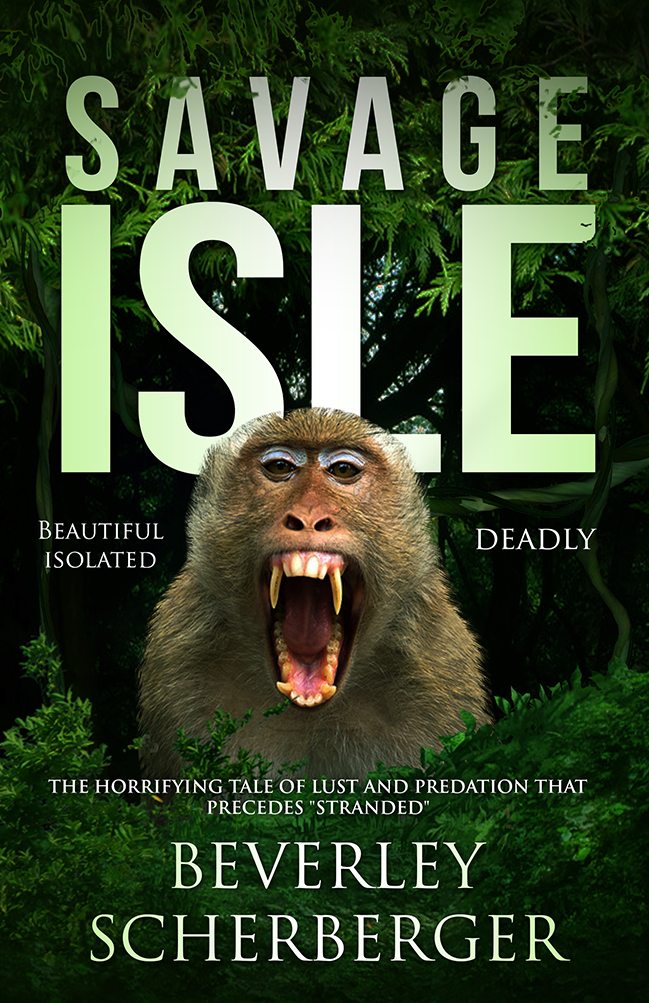 DESCRIPTION
Carl and Laralee and their team of scientists are hired by the Spanish government to develop a highly secret, revolutionary serum. Their goal—to create an army of carnivorous monkeys that would give Spain an indisputable advantage over its enemies. They succeed beyond their wildest dreams. However, greatly increased intelligence is an unexpected side effect that causes serious complications. The beasts are thinking, reasoning, and increasingly dangerous.
After one death and several serious attacks on workers, the scientific team is relieved to learn their request to move the facility to a larger island with more security and built-in safeguards is approved.
While awaiting news of a moving date, additional experiments with orangutans prove successful as well. James and Julie, the most advanced, skilled, and lovable of the facility's apes, have mated. Will they produce the amazingly intelligent offspring the team expects?
During the facility's relocation, a terrible storm wreaks havoc with their plans and the new island turns out to be anything but a safe haven. Carl and Laralee, Doc Gustav and Teresa, and the rest of the team battle for survival against their own nightmarish creations.
INTERVIEW
The book you're releasing now, Savage Isle, is a prequel to your first novel Stranded. Why did you decide to write the prequel after releasing STRANDED?
I had many comments from readers asking how Morley's family ended up on the island. I don't want to say too much here and give away Stranded's story line ~ you'll have to read it! But if you start with Savage Isle, you'll have solid background leading into Stranded.
Many people also lamented the fact that there wasn't a sequel to Stranded because they enjoyed the characters so much. I figured it would be interesting to provide the background to the novel and decided on a prequel instead.
You have SCUBA diving as an element in all your action/adventure books. Do you dive?
Yes, although I haven't been diving for a long time. But for a stretch of about 10 years, that's what I did on days off, vacations ~ any chance I had to 'get wet.' In fact, I used to joke that I needed to find seven people who wanted to dive once a week. Then I could dive every single day and everyone would get what they wanted! It was certainly my passion for many years and was the single most exciting thing I've ever done. There's just nothing like breathing underwater and being one with the fish.
I grew up watching Sea Hunt (starring Lloyd Bridges) and Voyage to the Bottom of the Sea and, as I got older, anything and everything to do with Jacque Cousteau.
Oddly enough, Stranded started out as a SCUBA diving short story. Then it took on a life of its own and became a 300+-page novel. Imagine my surprise!
Why are monkeys and orangutans so integral to your stories? Did you do a lot of research?
While writing Stranded, it seemed only natural to continue the tale once the divers found themselves on the deserted island. After all, they hadn't yet been rescued so I had to figure out what happened next ~ it was a blank slate and I could make it anything I wanted. I put a lot of thought into it and decided primates would be interesting. And now I know more about orangutans than any normal person should. Yes, there was a lot of research involved. I've never been good at Trivial Pursuit, but I could kick some serious butt in an "orangutan" category!
So when I decided to write the prequel, the monkeys had to be a large part of that story, too.
Do you outline your book before writing or 'write by the seat of your pants'?
I've always been a 'pantser' and let the story develop as I go along. Sometimes the best ideas come to me in the dark of night when I can't sleep. I've been known to get up at 3:00a.m. and turn the computer back on. My cat hates it when I feel inspired in the night.
But with Savage Isle, I tried something new. I was feeling unmotivated so a good friend (also an author) suggested I try putting together a 'framework', noting the various scenes and marking the 'game changers'. I'm very detail-oriented and cringed at the thought of logging each and every scene, but decided to give it a try.
It did keep me on track and by doing this, everything worked together well. I hate it when you get to the last couple of chapters and discover that the ending isn't going to work if you leave chapters six, seven, and thirteen as is. The options are to either change the ending or go back and re-write the earlier chapters. Using a framework, you discover those discrepancies early on and can fix them before you've written 80,000 words.
Have you always written fiction?
No. As a matter of fact, I always enjoyed writing non-fiction articles for magazines, newspapers, etc. because I could do the research and interviews, write the piece, check the facts, and zip the article off to be published. By the time I had over 200 articles printed, friends were urging me to write a book. But I liked diving into the subject matter and getting it done, then moving on to something different. The thought of spending months—maybe even a year—on the same story with the same characters made me cringe. That's why Stranded began as a short story ~ there was no pressure to pound out 300 pages. But when the characters took over, it just happened. Little did I know, there were characters galore lurking in the basement! When a story needs to be told, it'll find a way.
I've always loved reading fiction and once I joined the local writers club, I decided to try my hand at something different. And now I'm five books in.
What was your biggest challenge in switching from non-fiction to fiction?
Writing dialog. In feature articles, press releases, or most other types of non-fiction articles, there are quotes, but no two-way dialogue. When conversation is well-written, it flows, and the reader doesn't have a problem following who is speaking. It sounds natural, the way people really talk. But it's not easy to make it sound easy. And the biggest issue I've found, both with myself in the beginning and with other new writers, is using names way too often. For example, if two people are having a chat, they wouldn't say, "Hi, Bob. How are you doing?" "Doing great, Frank. How's your wife doing after her surgery?" "She's fine, Bob, getting along really well." "Glad to hear that, Frank. Tell her I said hi."
A skilled writer can keep the dialogue flowing without losing the reader and without using names repeatedly. In a conversation between two people, we rarely use each other's name unless it's for emphasis.
How did you get started as a writer?
I have to give that credit to my sixth grade English teacher, Mr. Stein. He announced one day that we were going to write a short story. I remember thinking, "Write a story? I'm just a kid!" He gave us the topic ~ a ten-year-old boy with a paper route ~ and we could write whatever we wanted as long as it was based on that subject. After that, we had to submit one story a week and I often wrote two or three just because it was so much fun. I knew then that writing would be an integral part of my life.
Even at that young age, I was an avid reader. When I found that I could write stories that other people enjoyed reading, it was a life-changing discovery ~ and the thrill remains. Glowing reviews or emails from readers saying how much they liked it is an incredible feeling. It's what keeps me writing.
Throughout school and college (I went to college at age 40), I was one of the few students who enjoyed term papers, essays, and my College Comp class. Loved it!
When you curl up with a novel, who is your favorite author?
I don't know that I have a truly 'favorite' author. I read action/adventure, courtroom thrillers, psychological suspense, horror, a good western, and an occasional fantasy. I love books about animals, anything to do with scuba diving or underwater adventure, and a romance every once in a while. I love John Grisham, Stephen King, Dean Kuntz, John Patterson, Lee Child, Peter Benchley, and Robin Cook ~ obviously, I enjoy action/adventure and mystery-thriller type stories, as well as a good tale of horror. But I don't mind picking up a book by an unknown author if the blurb sounds interesting and the cover is engaging.
What's your biggest turn-off when reading a new author?
Typos. I hate getting into a story (especially a really good story) and then being stopped dead in my tracks by a misspelled word, a missing word, or a weirdly composed sentence. For some reason, they jump out and hit me alongside the head. If there are enough of them in a book ~ no matter how good the story is ~ I'll never read that author again.
If you could give an aspiring writer or new author one piece of advice, what would it be?
Have your book professionally edited before publishing. I know there are a lot of people who aren't bothered by typos and odd sentence structure, but I also know I'm not alone when I say it does make a difference. If you sell 1000 books and 10 people are so irritated by the typos that they never buy another one of yours, you could potentially lose thousands of sales. If you become a prolific writer ~ and improve over time ~ you could still lose many sales and a lot of money from people who will never buy your books because you scrimped on those first couple. Yes, editing can be expensive. But if you're putting all the blood, sweat, and tears into writing the book in the first place, make it as perfect as it can be before putting it out there for the world to see ~ it has YOUR name on it.
What do you do for fun? Do you have any hobbies?
In my younger days, I played racquetball and went scuba diving at every opportunity. These days, I spend time with my horse Socrates, either riding or doing ground work. I never knew I could have so much fun NOT riding a horse! He has taught me the true meaning of patience.
I also make jewelry and read by the fire with my beloved kitty Squeak curled in my lap. They say you should always read your work out loud to hear how it flows ~ Squeak is my sounding board and kindest critic. She even purrs at the scary parts.
7 Interesting, little-known facts about me:
I have a dolphin tattoo (and no, I'm not going to tell you where it is.)
In my opinion, chocolate and ice cream are major food groups.
I always, always eat my potatoes first. I hate cold potatoes. Unless, of course, it's potato salad (there's an exception to every rule).
I would rather stay up until 3:00a.m. than get up at 6:00a.m. I am NOT a morning person.
I used to be a 'dog person' until I discovered the joys of being owned by a cat.
I currently live in a small town in the Andes Mountains of Ecuador, South America.
Until I was 31 years old, I had misspelled my first name. When I applied for a passport, I saw that my first name was spelled Beverley on my birth certificate ~ I'd been spelling it Beverly. When I got married, I not only changed my last name, but corrected the spelling of my first.
CONNECT