As we continue Thanksgiving with Ja'Nese, we are joined by another author feature and a book for you. I hope you enjoy!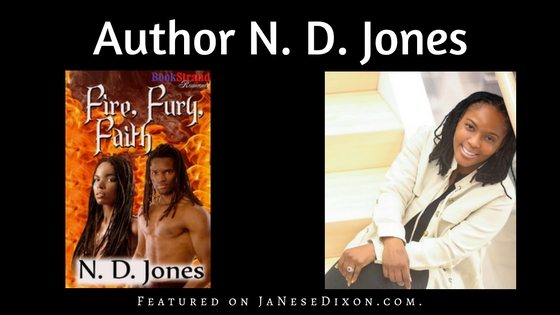 Tell us about yourself.
I live in Maryland with my husband and two children. I have an M.A. in Political Science, using my degree to go into education as a teacher. I taught high for many years, eventually becoming chair of the Social Studies Department. Currently, I am a professional development specialist with a local Maryland school system, working on increasing student achievement through teacher and administrator self-efficacy. I'm also pursuing my doctorate in education in Community College Leadership.
A desire to see more novels with positive, sexy, and three-dimensional African American characters as soul mates, friends, and lovers, inspired me to take on the challenge of penning such romantic reads. I like to read historical and paranormal romance novels, as well as comics and manga with action and heart. With a two-hour daily work commute, I've found audiobooks to be a great friend. I've "read" some of my favorite books while on the road.
Fire, Fury, Faith
Winged Warriors Series, Book 1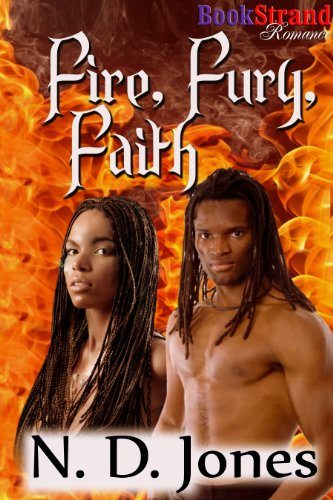 Issa, tribal chieftain and warrior, dies trying to protect his family and tribesmen from slave traders but is given a second chance at life as an angel. Having lost his home, daughters, and life by forces beyond his control, Issa, a Guardian Angel for four centuries, has yet to come to terms with this "failure." So when a rogue demon attacks and almost kills his wife, Serwa, Issa goes on the hunt. Serwa knows the pain of loss, the burn of fire, the heat of love. She is a Healer Angel, bound to help, to heal, to protect. And the person she wants most to heal is Issa, her husband, her soul mate, her warrior. But what is a woman to do when a husband's guilt and fury challenge the very foundation of their marriage?
Why do you write?
I used to never read fiction, no less romance books of any genre. But a few years ago I heard Marvel was going to have Storm and Black Panther marry—an unprecedented move by the comic book company. As an African American woman and fan of X-Men's Storm, I was intrigued enough to buy all the comics leading up to their marriage. Well, from there, I fell in love with comics with romantic relationships, especially those with African or African American characters. I'm such a nerdy fangirl that I even included a silly line or two about Storm and Black Panther in my upcoming book and made a secondary character a comic book fan.
When Marvel dissolved the marriage between Storm and Black Panther, I was so disappointed. Worse, there was no comparable comic I could turn to to get that particular enjoyment fix. That's why fanfiction is so popular. I truly get why fans turn to writing fanfiction. For some, they want to have a certain level of power over their favorite characters, writing what they would like to see in the actual comic, book, movie, or television show.
So, for me, what makes my brand of romance special is that I write what I see as a dearth in the paranormal romance genre—African/African American love with a paranormal twist. I spend a lot of time developing the mythology of my stories, as well as the execution of the paranormal element. If I write a book with demons and angels, I think it's important to actually show what it means to be an angel and demon. That's one thing a reader of my books can look forward to. The paranormal is not a sidebar in my novels. It's center stage and critical to the plot.
Is the book part of a series?
"Fire, Fury, Faith" is the first book in N.D.'s Winged Warriors novella series. In this series, angels and demons exist—sometimes as enemies, other times as friends and lovers.
 Tell us about your main characters in your book.
Issa and Serwa are the hero and heroine in this novella. When the book opens, they are just a young couple in love, desperate to be together despite the animosity between their fathers. Issa, a bright, fierce warrior and Serwa, a sweet shaman, in love for the first time, has no idea the turn their lives will take and the immortal future that lies before them. Their love transcends time, which makes them no more prepared or any less susceptible to guilt, fury, or fear.
Why would readers enjoy your book?
Readers will enjoy this novella because Issa and Serwa's love for each other is real, deep, and given fully and equally. They are multi-dimensional characters, with a will and a heart that are tested on the deepest of levels. They are perfect in their imperfection because their flaws bring out the best in the other person. They are immortal love made manifest, and their story of humanity and angelhood is one of unbridled passion and everlasting faith.
What's a fun, quirky fact about YOU? 
A fun fact about me is that my husband and I were married at the National Great Blacks in Wax Museum. It's the first wax museum in the country with a focus on the lives, culture, and history of African Americans. After the wedding ceremony, our guests were given a tour of the museum, including the full model slave ship exhibit—the most popular exhibit in the museum.
Lightning Round
What is your favorite movie?The first two movies of the Underworld series are my favorite—as strong female lead and paranormal plot, a win-win.
What is your favorite dessert? My favorite dessert is strawberry shortcake with vanilla ice cream.
What is your favorite quote? One of my favorite quotes is by Malcolm X: "Education is the passport to the future, for tomorrow belongs to those who prepare for it today."
What is your favorite genre to read? Paranormal romance is my favorite genre to read.
What is a hobby you enjoy besides writing? A hobby I enjoy is reading comics and manga.
If you were stuck on an island with one book and one item what would they be? If I were stuck on an island and could have only one book and one item, they would be a survival guide book (whichever one is for surviving on an island) and my husband (yes, I'm counting him as an item and being totally selfish with the selection, LOL).
What's a fun, quirky fact about YOU? 
How can readers connect with you?
Reader Gift
Would you like a copy of Fire, Fury, Faith? Get it for a limited time HERE.