I'm excited to share my first author feature. Let's get to her interview and don't forget to grab your gift at the end of the post. 😉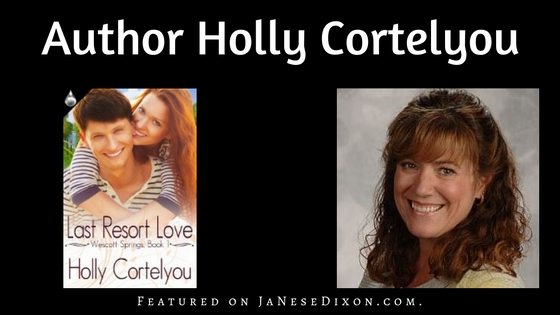 Tell us a little about yourself.
I'm a romance author who pens sweet and spicy small town, contemporary romances as well as supernatural and paranormal romances. On any given day, you can probably find me sipping coffee and posting dog and cat pics on Facebook or Googling for gossip on royals, knitting, and ghosts!
After trying on many hats as a meeting planner, political scientist, long haul trucker, and financial services specialist, I've finally found the perfect fit as a romance writer! I'm living my own Happily Ever After with an uber-handy and sexily broad-shouldered husband, a sweet silver lab and a fluffball kitty in sun-kissed Southern Oregon.
I have hazel eyes, a goofy sense of humor, and…all the rest is subject to change without notice.
Last Resort Love
One daring whim leads to a whole lotta smokin' hot temptation…
Bad luck be gone…Krissa Courtland whispers her vow and stabs a pin in the map. No more cheating exes or downsized jobs. With fingers crossed, she lands in Colorado, but right off a storm flattens her dream cabin. But disaster turns delicious when smoking-hot Nick Olin saves the day. And now Vail's sexiest resort developer is her landlord and next door neighbor.
Nick's silky brown curls and teasing smile are tempting, but Krissa can't shake the ache in her soul and won't trust in love. Too bad for Krissa, Nick has other ideas. With her luscious curves and vulnerable amber eyes, Nick is oh-so-distracted from his empire building. Every time Nick makes a move, Krissa bolts. Can Nick prove he's trustworthy and just the man to heal her heart? Or will Krissa run out on her chance at love?
Tell us about your main characters in your book.
At the heart of it all…Nick and Krissa don't trust in love and don't want to risk any more hurt. They've both experienced betrayal and the death of a loved one…but somehow, love always finds a way!
Why would readers enjoy your book?
It's sweet with a kiss of heat! It's sassy and fun. It's the hero and heroine messing up, wrangling with their past emotional scars, but ultimately giving love a chance.
Why do you write?
I write because it's a crazy, irresistible compulsion. I dread the wild ride of highs and lows. That instant when you know you nailed the harrowing emotions of the hero and heroine's black moment or when you stare in despair at the blank page for an hour without a clue…but in the end, I just gotta have my "happy ever after." So, I write!
Is the book part of a series?
Last Resort Love is the first book in the Wescott Springs series where it's always a sweet and sassy romp to love in this charming hamlet, nestled in the Colorado mountains.
Share one fun fact about your book.
I love animals and so far, most of my romances have had cats and dogs with roles to play in the story. In Last Resort Love, I originally had two dogs…but had to edit out one of them (Nick's dog Riley) for storyline purposes, but at least my heroine, Krissa, has her a big, fuzzy Husky named Shasta to snuggle.
Lightning Round
What is your favorite movie? Groundhog Day
What is your favorite dessert? Flute of Champagne
What is your favorite quote? "Here's to the girl who read the compass written on the walls of her heart and follows the North Star etched upon her Spirit." C. Ara Campbell
What is your favorite genre to read? Depends on the day! Fantasy. Mystery. Thriller. Romance. I love it all.
What is a hobby you enjoy besides writing? Knitting and hiking. Oh yeah…and wine tasting.
If you were stuck on an island with one book and one item what would they be? The Anne of Green Gables series (my oldest friend!) and Ruffles potato chips. Ha!
What's a fun, quirky fact about YOU? I learned how to drive a semi-tractor trailer in order to "catch" my man! LOL!
How can readers connect with you? 
Reader Gift
Would you like a copy of Last Resort Love? Get it for a limited time HERE.