Monique is joining us today with her recent release Any Way You Spin It AND a GIVEAWAY.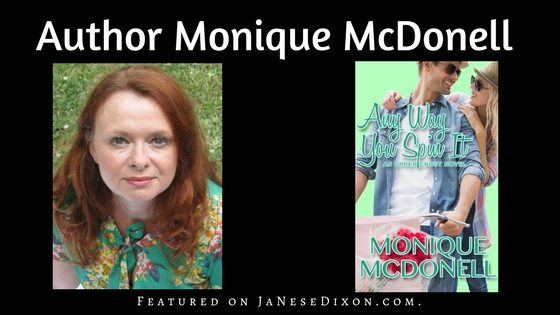 I am an Australian author who writes contemporary women's fiction including chick lit and romance.
I have written all my life especially as a child when I loved to write short stories and poetry. At University I studied Creative Writing as part of my Communication degree. Afterwards I was busy working in public relations I didn't write for pleasure for quite a few years although I wrote many media releases, brochures and newsletters. (And I still do in my day-job!)
When I began to write again I noticed a trend – writing dark unhappy stories made me unhappy. So I made a decision to write a novel with a happy ending and I have been writing happy stories ever since.
I am the author of five stand alone novels including Mr. Right and Other Mongrels and Hearts Afire and the Upper Crust Series. Many of my novels focus on an Australian characters meeting and visiting US characters.
I live on Sydney's Northern Beaches with my husband and daughter.
Sometimes you must accept that love doesn't always show up at your convenience.
Minnie has made mistakes and lots of them. Fresh out of rehab and back in her home town her plan is simple; she needs to make amends to all the people she hurt, especially her children, and get her life back on track. She has no room in her life for men – it was because of men she got in this mess in the first place.
The minute former athlete and current bar owner, Mitch sees Minnie he knows she's something special. Now all he needs to do is convince her and the whole town that their being together will not undo everything she's working so hard to achieve.
With all the obstacles to her success can Mitch prove he's not just one more thing in the way.
If you like long bike rides, picnics by the lake and truffle fries then Any Way You Spin It is for you.
Mitch knew it was just a coincidence he'd run into Min. She was one of a handful of people he'd run into today. Moose had jogged past him at the park and invited him to dinner tomorrow night. He'd stopped to get gas and Dave the local policeman was at the other pump and when he'd gone into the diner half the town had been there. And he may have heard Mins name mentioned in whispers more than once. Patty had been holding court with her gaggle of minions. Running into the beautiful woman seated beside him improving the look of his truck exponentially was not destiny, even if it felt like it.
All she'd bought was a small block of cheese. Clearly, she was planning to do something with it.
"What's the cheese for?'
"Meatballs and spaghetti." His stomach, the betraying bastard groaned. "I gather you like meatballs."
"I do. They're a classic."
"I'm going to have extra. I'll drop some over."
"You don't need to do that." His stomach rolled again.
"To say thanks for the bike, and the lift home." Large raindrops were pelting the windshield now. "I'm pretty happy not to be walking in this."
He looked over at her. She was looking at him with those baby blues so he couldn't resist.  "Okay, but how about you eat it with me? It's kind of sad for us each to be eating alone."
"Okay. I'll just come down the hall when I'm done." The town wasn't big so he pulled the truck up outside the building minutes later. He stopped under the portico so she could exit without getting wet.
He watched her go, her perfect pear-shaped butt heading in the door and up the stairs. He knew he shouldn't be looking at that butt or wanting that woman but knowing didn't stop it from being so.