Absolute Love is available. Y'all I love this couple. I'm low-key sad it's a novella. You might see these two again. Now, let's get to Ryann and Xavier's love story.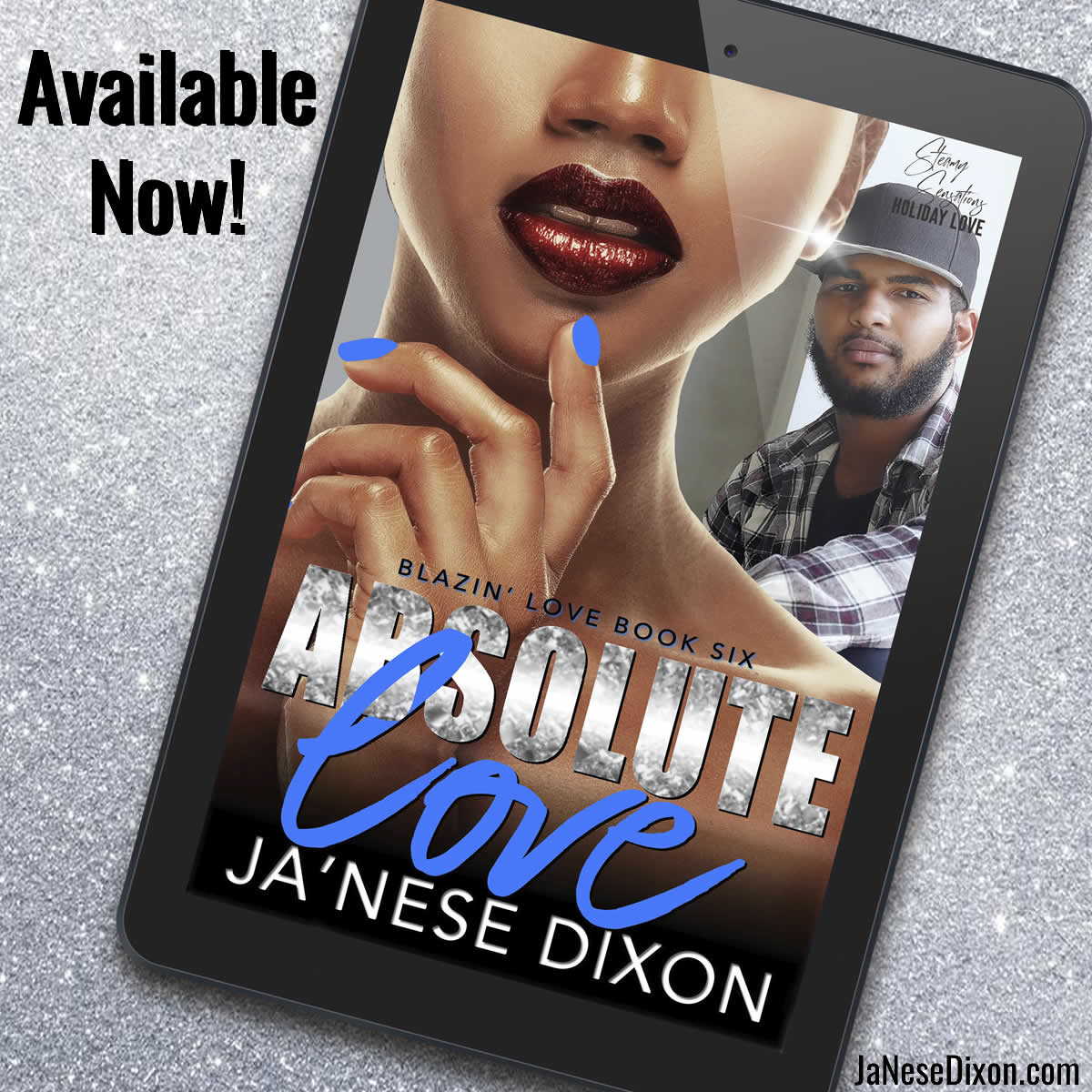 ABOUT
It's Labor Day.
I'm sitting in a luncheon and my boss announces that I'm the first female African American partner under the age of thirty in the history of the firm.
I'm Ryann Gibson. I practice corporate law by day and hang with my guys by night, as a partner of Platinum Prestige. My bank account is fat, my house is laid, but my bed is cold and empty.
Dating at this stage of my life mirrors the setup of a bad joke. What do you get when you…fill in the blank? Meet an old guy? Meet a broke guy? Meet a young guy?
When Xavier, our waiter, asks me out I wait for the rest of the joke. Because he has three strikes against him.
He's young, cocky, and he just quit his job. His confidence intrigues me and our instant attraction has me saying yes when I should say no.
Little do I know, I'm signing up for the ride of my life. Nor how this one concession sets my cold bed ablaze and all work, no play becomes all night, all day. 
But when the smoke clears, can two people so different find love?
Blazin' Love is a series of steamy romance novellas and part of the Steamy Sensations Holiday Love project. This steamy second chance romance features an older millionaire woman, a younger alpha man, happily-ever-after, and catch up with characters from other Ja'Nese Dixon books. Enough debating already…
Scroll up to ONE-CLICK your copy of this Steamy Romance today!
EXCERPT
"Xavier, are you waiting for someone?" I scan the hallway.
He stands from the wall, taking a few steps in my direction. "I didn't get your name."
I glance up, extending a hand. "Ryann."
I estimate he's a few inches taller than me. I'm sure his size intimidates most, but I'm six feet myself.
"Ryann, I was waiting for you." He smiles with a chuckle brushing his thumb across the tip of his nose. He breaks eye contact for a second before turning back.
"Yo X, congrats man." Another waiter passes by, and Xavier taps fists with him.
"Thanks, man. I'll see you on Friday?"
"No doubt." 
We're alone again, and Xavier turns back to me. "I'd like to take you out."
"Congrats? Did you get a promotion?"
"Not exactly. It's my last day."
"Oh, really." I step aside to let someone pass. "What's next for you?"
"I got plans. I'll tell you all about it over dinner."
"Are you old enough to date?" I tease to bring my hormones under control because my senses are on an epic roller coaster, from nervous to agitated to flattered. "No shade." I hold back a laugh.
"That sounds shady as hell." His mouth twists as if in deep thought with his eyes peering through his thick eyelashes down into mine. "I got you ma. Kick it with me, Friday night."
"Kick it…with you?" I point at him, pronouncing every letter and syllable sounding boujee as hell. 
Xavier is handsome, I'll give him that, but he looks no more than twenty-three, twenty-four, tops. And I'm adding a few of those years purely on the strength of his full facial hair. It gives him a mature appearance.
"Yes, Ryann, with me." 
He leans back with open hands before dropping them in front of his bulky body. One hand clasping the wrist of the other, giving off an aura that I've seen a few men possess, namely Denzel Washington, Barak Obama, Shawn Carter. Those kinds of men. That I'm the man—even on my worse day—type of look. 
I get a good look. I start from his close crop hair swimming in waves, not excessive, but it shows he takes pride in his appearance. I take my time ending at his polished dress shoes. His swag is on one thousand.
"My father always says, 'You study long. You study wrong.'" He adds with a cocky grin.
The energy passing between us is explosive, and I'm not beneath enjoying a beautiful specimen such as Xavier but…
"It's one date, not forever…yet." He licks his lips, and I glance over my shoulder at the luncheon to bring my temperature down a few notches. "Friday night, I'll pick you up, you'll be my special guest."
"Special guest?" I turn back, and he's closer. I stand straighter next to him. Even in my heels, I have to look up to meet his intense gaze.
"That's right. I'd love nothing more than to play this little game with you ma, but I have an appointment. All I need is your address." He passes his phone, and I stare at it.
"I didn't say yes." I cross my hands over my chest, bringing us closer.
"You won't have to pull out your wallet. I'm not a wack-ass chump that doesn't know how to treat a beautiful woman, such as yourself. I'll get you to and from your home safely. So what do you say gorgeous?"
"Beautiful, gorgeous, laying it on pretty thick?"
"I'm gunning for date number two.
What to read more before you buy it? Read Chapter One on Amazon by clicking "Look Inside" or send the sample to your device.
BLAZIN' LOVE SERIES
Book 1:
Book 2:
Book 3:
Book 4:
Book 5: