Today we're joined by D.H. Gibbs and her upcoming sweet romance, A Touch of Kindness.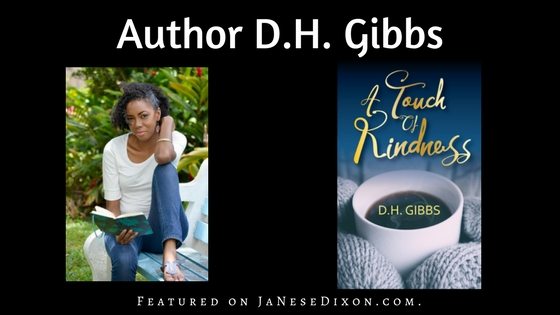 Hailing from her native Trinidad and Tobago, Author, Illustrator, and lifelong bibliophile D.H. Gibbs found a way to blend her creative abilities with her love of the written word.
From her early days, she spent many waking moments crafting tales, honing her graphic design skills, or dreaming up elaborate vacation plans to satisfy her love of exploring new locations. Her creative endeavors have afforded her many opportunities and inspired her to take her love of new and different worlds to craft Childrens' and New Adult books for readers everywhere.
When not writing, she can be found dreaming up new, fantastical stories for her fans or indulging her love of art, reading, or planning her next great adventure.
One act of kindness would change her life forever.
Mali lives by one motto: advocate for kindness. That has always served her well. But when she meets a handsome stranger, her instincts tell her something isn't quite right with her new friend.
Quin is good at keeping secrets. When he meets Mali, he's more determined than ever to keep his secrets safe. The better he gets to know her and her world, the more difficult it is to hide the truth. If she finds out, he fears their fast-growing friendship will sour.
Filled with mixed emotions, Mali is desperate to find out what he's hiding. The question is will it break her heart?
Tell us about your main characters in your book.
Mali the main character in this book is known for being a Good Samaritan. She encounters Quin in an altercation and help him out. Quin, is fun kind and affectionate. He seeks her out and tries to get to know her. But he has a secrets that Mali eventually finds out.
Why would readers enjoy your book?
I think the hidden clues and elements that tie the story together will be fun and keep the reader guessing.
Why do you write?
Because I can't not write. I'm convinced my stories are stalking me until I put them on paper.
Is the book part of a series?
No, this book is currently a standalone short story. Unless the characters start haunting me then I may consider another story.
Share one fun fact about your book.
It has an undertone of Cinderella story in it.
What is your favorite movie? Pride and Prejudice
What is your favorite dessert? Cake.
What is your favorite quote? "You never really understand a person until you consider things from his point of view … until you climb into his skin and walk around in it." Atticus Finch
What is your favorite genre to read? Fantasy and romance. But I usually read almost anything fiction.
What is a hobby you enjoy besides writing? Painting
If you were stuck on an island with one book and one item what would they be? A lighter and I can't choose one book.
What's a fun, quirky fact about YOU? I need to read a book or watch a movie twice to remember the full story.